Furrion Vision S RV Backup Camera Observation System
Driving around the country or from campground to campground is a dream scenario for a lot of people. Owning an RV allows you to enjoy the open road with the comforts of home. But one drawback is maneuvering the RV.
Mountain roads, tight spaces and backing up can be a hazard.
Furrion backup cameras offer the best in class quality that RV owners want at a price they can afford.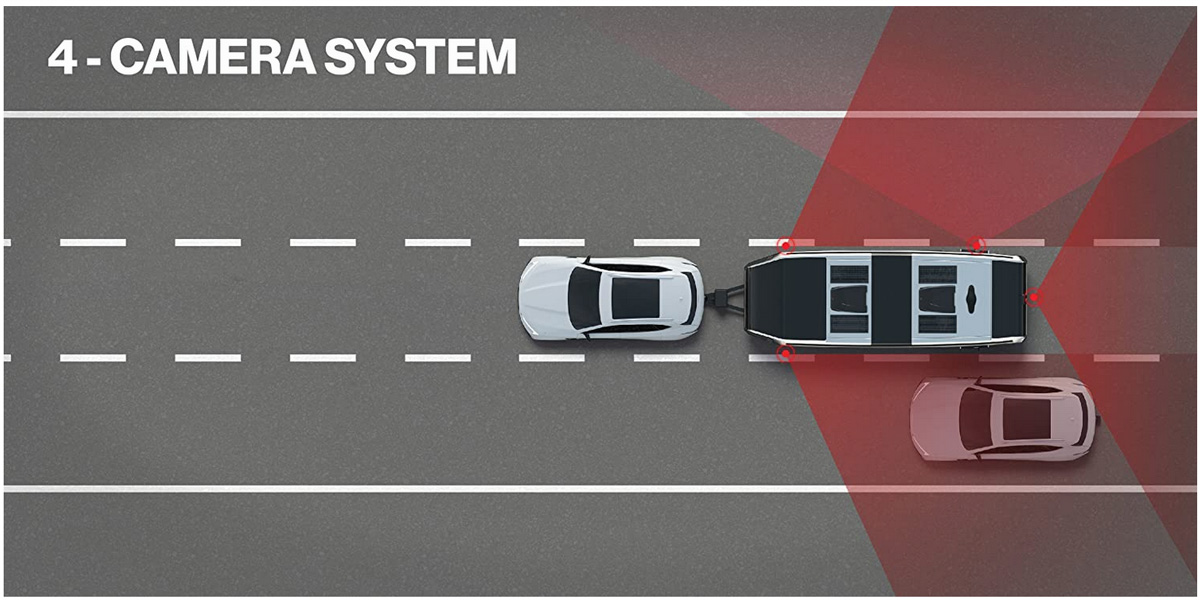 The Furrion Vision S RV Backup Camera Observation System is a backup system boasting infrared night vision, 2.4GHz wireless communication and works for up to 100 ft even at high speeds.
Configuration options allow you to choose the best RV backup camera system for you. You can choose a:
4-camera setup
3-camera setup
Single camera setup
You can also choose between the Vision 5" or 7" models. But if you want the best of the best in RV backup camera systems, you'll want to pick the Vision S 7" 4-camera system.
Furrion Backup Camera Installation

I was concerned that the installation of the Furrion backup cameras would be difficult. When you're investing in your RV, any custom installation is going to be costly. Most, not all, RVs already are prepped for installing the Furrion system without extensive drilling.
The system utilizes a unique marker light camera system that replaces your current marker lights with market light cameras.
You can install these cameras over your:
Marker lights
Side running lights
If you don't mind a little extra work, you can also wire the cameras to your vehicle. Wiring the cameras offers you a full security system that detect movement when you're parked and will awake the display so that you can see what's happening around the vehicle.
Wiring also includes the rear and doorway camera which have microphones built into the cameras to detect audio.
If your connections and mounting fixtures are already in place, as they are with a lot of RVs, you won't have any issues with installation. There are mounting brackets included, so even if you don't have the fixtures in place, it's still easy to install.
Robust installation instructions are provided with Furrion, so you'll be able to install your backup camera fairly easily.
Once installed, it's time to see the quality of the cameras.
Quality and Imagery

Furrion Vision S boasts a lot of great features, and we haven't been able to touch on them yet. The transmission range is 492-feet with the unit being tested at high speeds and still able to maintain image quality and range at 100-feet.
If you're traveling with a trailer or 5th wheels, the Vision S is superb.
Wireless technology is used for smooth, uninterrupted video with digital locking signatures for added safety.
The monitor connects to the cameras featuring either a windshield mount or an interior table stand.
Once turned on, you'll experience wide view angles with 120° viewing angles from the doorway and an additional 65° viewing angle from the side cameras. You'll notice reduced blind spots making it easier to quickly get on and off of highways.
I live in the mountains in North Carolina, and one of the biggest issues with merging on to the highway is that the off ramps are short – very short. You're also competing with a lot of hilly areas which can make it difficult to see who is behind or on the side of you.
Furrion provides a much greater viewing angle allowing for easier merging and changing lanes when necessary.
Of course, a lot of people will use these cameras primarily for backing up which boasts its own unique set of features:
Rear Assist Marker Lines: Unique marker lines that alert you to how close your bumper is to an object. The markers include a color-coded display of green, yellow and red. When you reach the red marker, you're coming very close to a collision.
Night Vision: Furrion Vision is one of the best backup camera systems because it also includes crisp night vision. The night vision offers 40-foot of clear video even in complete darkness. If you're trying to back into a spot or pulling into an RV park for the night, the night vision will become an invaluable tool for you to use.
Night vision and the rear assist market lines reduce your risk of accidents and make it much easier to back into spots.
The display itself is in high definition with touch screen compatibility. You can choose the 5" or 7" monitor, but the larger camera does provide an easier time seeing around the vehicle. You can switch cameras with a tap of your finger, or you can choose to view all cameras at a single time – it's up to you.
Microphones are built into the rear and doorway cameras in the event someone is trying to break into your RV.
The audio transmission allows you to hear the security risk and assess the situation further.
You'll find most people rave about Furrion backup cameras. But there are the random complaints to consider.
Furrion RV Backup Camera Reviews
Furrion has a lot of great reviews with most complaints being for older camera models. Metal trailers can cause a lot of interference with wireless cameras, so you may have to wire the cameras if it is an issue for you.
The Vision S has very few complaints relating to cameras not working.
Complaints center, primarily, around:
Camera not being crisp enough
Monitor color being "off"
It's certainly possible that these users received a defective product or that they did not install their units properly.
The cameras have a higher contrast ratio that may be the reason for people noting that some objects, such as tree leaves, appear whiter than they are normally. I have a hunch that the contrast is set up higher to provide the night vision functionality.
You can always adjust the brightness and contrast on the monitor if it is an issue for you.
Otherwise, the Furrion Vision S backup camera observation system makes driving an RV safer with advanced backup, night time and security features every RV owner will appreciate.
If you are ready to upgrade your RV, visit Furrion.com for the latest pricing and offers.