Brooklyn Bedding RV Mattresses
There's nothing quite like hitting the open road in an RV. You enjoy all of the comforts of home while traveling at your own pace. When it comes to comfort on the road, one of the best things you can invest in is a quality RV mattress.
Brooklyn Bedding has been catering to the RV mattress market for more than 20 years. Launched in 1995, the company is known for its quality, durability and superior construction. Their approach to manufacturing and delivery is what sets them apart from the competition.
The Brooklyn Bedding Difference
When you're traveling in an RV, the last thing you want is to end the night on an uncomfortable mattress. The quality and craftsmanship of your RV mattress matters more than you think.
Unlike other mattress manufacturers, Brooklyn Bedding designs, constructs, packs and ships their mattresses right from their factory in Phoenix, Arizona.
The company's factory features state-of-the-art equipment. Brooklyn Bedding is able to maintain such superior craftsmanship because they poured their profits back into the business for more than 20 years.
Brooklyn Bedding's mattresses are made with high-quality foam designed for a superior sleeping experience. Their foam is cut to size and combined strategically in layers for cooling, comfort and support.
The company also invested in individually pocketed spring manufacturing technology to offer a bed-in-a-box mattress that stands above the rest.
Every piece of material used in the construction of their mattresses is carefully selected.
Covers are sewn with double-stitched Kevlar thread
All components are hand-trimmed and serged to create a clean, flawless product
All seams are hand finished
All phases of mattress construction are overseen by an operator to ensure quality
Average craftsmanship level of 7 years
At least 12 points of expert inspection during the construction of each mattress
Mattresses feature high-end covers
All mattresses are backed by a 10-year warranty
Mattresses are built on-demand
Brooklyn Bedding's finishers are some of the highest paid, most skilled workers in the factory. Finishers have at least 10 years of experience to ensure the highest quality mattresses.
All mattresses are roll-packed and have exceptional recovery once unboxed.
Because each mattress is made on-demand, Brooklyn Mattress has tight control over their inventory footprint, and each customer receives a fresh mattress.
The company's end-to-end manufacturing approach allows them to control the quality of their mattresses as well as the cost.
Brooklyn Bedding's mattresses are made by master craftsman, and that's truly what sets this brand apart from other RV mattress manufacturers.
Brooklyn Bedding Aurora Reviews
Brooklyn Bedding's RV collection features four main models, and each one is special in its own way. With a 120-night trial and 10-year warranty, you really have nothing to lose by trying Brooklyn RV Mattresses.
Best Overall – Brooklyn Aurora Hybrid Mattress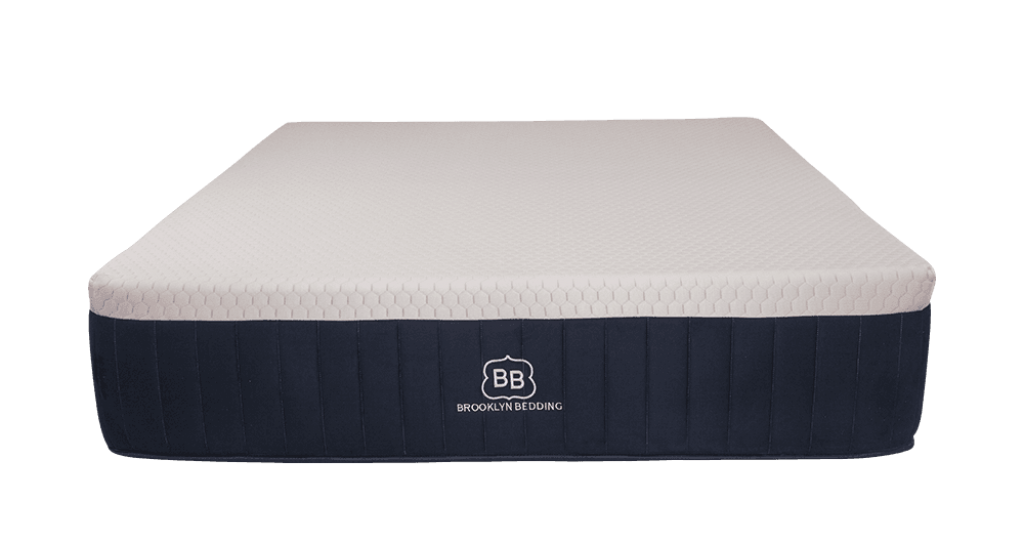 The Aurora Hybrid mattress is the best-of-the-best in the RV line. Offering a luxurious experience, the Aurora keeps you cooler at night. This mattress has six layers to produce a truly exceptional sleep environment.
The Aurora features:
TitanCool technology. This includes cooling gel beads that liquefy at high temperatures to cool you down and solidify at lower temperatures to ensure a comfortable sleeping environment.
CopperFlex technology in the top 1.5" layer of foam. This layer allows for responsive contouring and targeted pressure relief. The copper also provides antimicrobial properties.
A 2" layer of TitanFlex, which makes you feel like you're sleeping on a cloud.
A 1" layer of Swirl Visco-Elastic Memory Foam for deeper compression support and greater contouring.
An 8" base of individually pocketed springs for pressure point relief and to reduce motion transfer between partners.
A 1" layer of high-density foam for durability and to reinforce the springs.
The Aurora is available in three levels of firmness (soft, medium and firm), so you can choose the perfect fit for you. Several sizes are available:
Twin
Twin XL
Full
Queen
Short Queen (60 x 74)
King
RV King (72 x 80)
CA King
Split Cal King (36 x 84)
RV Bunk (42 x 80)
Like other Brooklyn Mattresses, this model is roll-packed and shipped to your doorstep.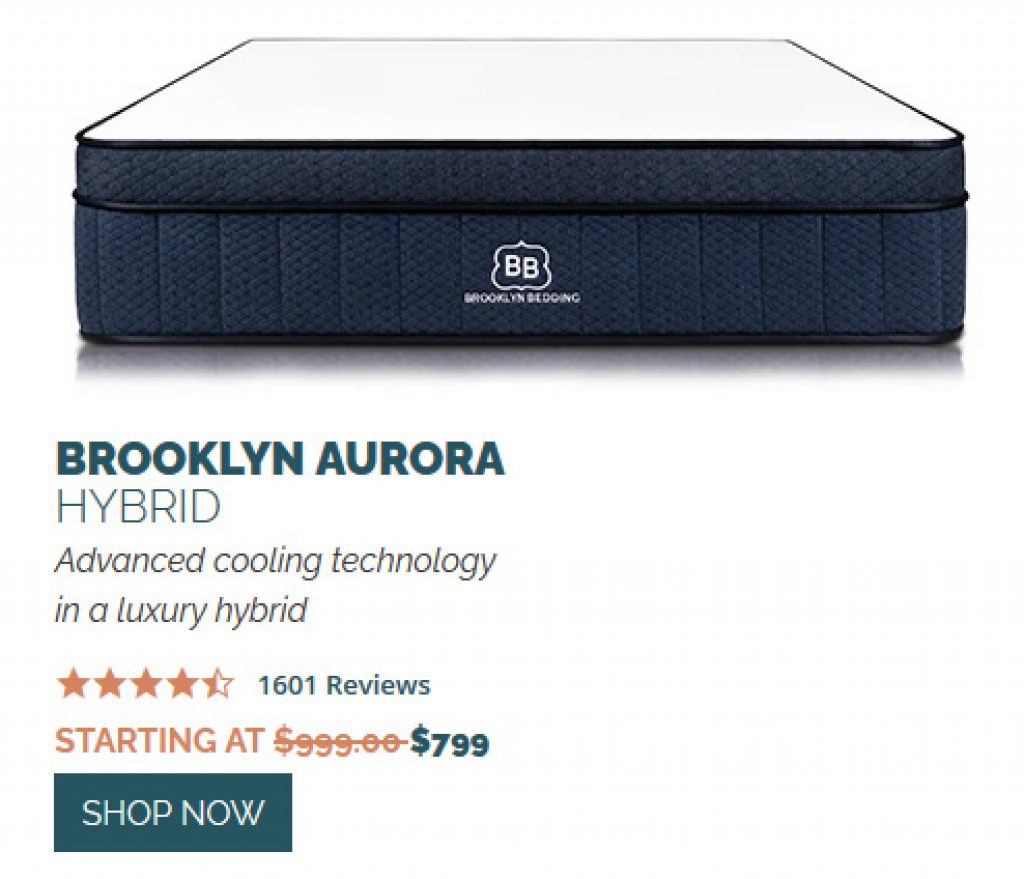 ---
Best Budget – Brooklyn Wanderlust Memory Foam RV Mattress

Being on a tight budget doesn't mean that you have to sacrifice quality and comfort. The Wanderlust mattress is one of the most affordable options from Brooklyn Mattress. It comes in a wide range of size and thicknesses.
The Wanderlust mattress features multiple foam layers that have open cell technology and stain-resistant fabric.
The top layer features gel memory foam for a cooler, responsive sleep experience.
Finish guards feature Nano Stain Terminator technology to protect against spills and stains.
Variable depth top layers feature gel swirl memory foam to allow for a more responsive, cooler sleep experience.
Variable depths of high-density base foam for stability and durability.
Each foam layer has open cell technology to improve breathability and airflow.
The 12" and 14" models have an extra layer of transition foam to allow for a better transition to the high-density base.
The Wanderlust has several thickness options:
This mattress comes in more than a dozen sizes, so you're sure to find the perfect one for your RV.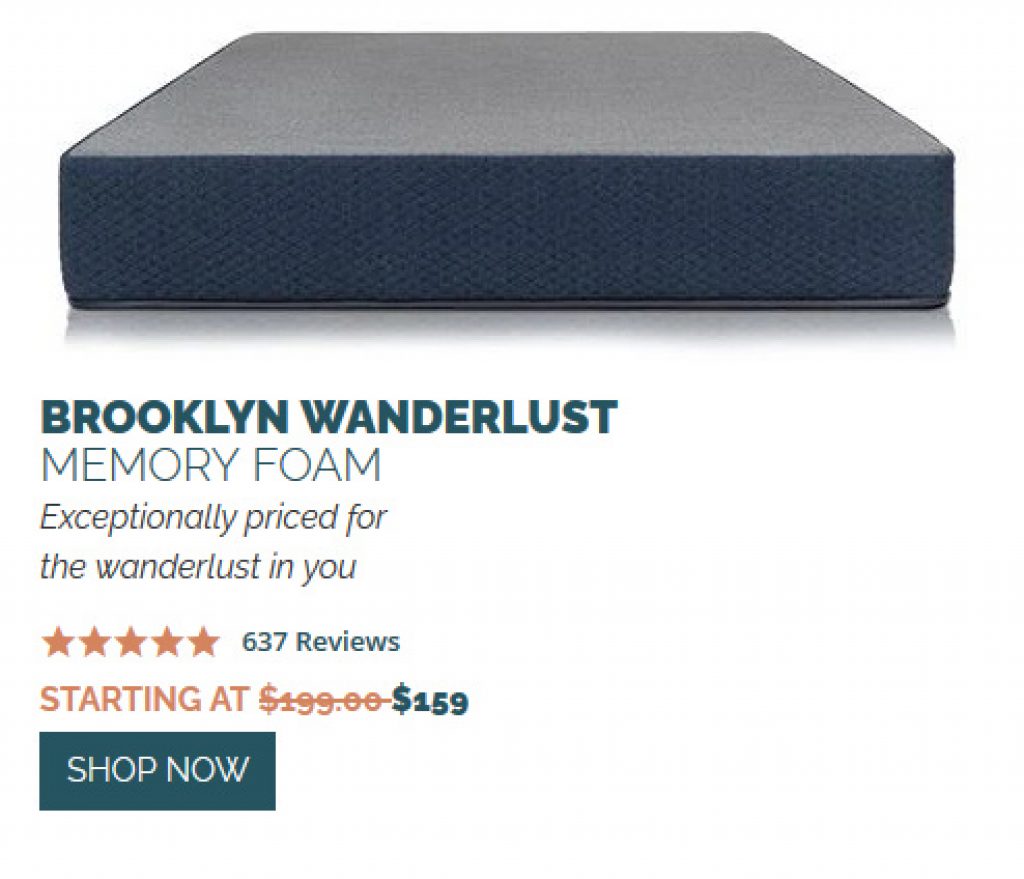 ---
---
Brooklyn Artic Dream
The Artic is designed for comfort and cooling to provide a luxurious experience without the high price tag. Along with advanced temperature moderation, this mattress also offers two core options:
Three-layer
Four-layer hybrid with a combination of foam and individually pocketed coils
The Artic is comprised of the following layers:
A 0.75" quilted soft layer of breathable material that resists body impressions.
A cooling panel to keep you comfortable all night long.
A 2.5" layer of gel memory foam that offers pressure point relief.
One of the core options listed above.
This mattress comes in medium firmness and several sizes, including:
Twin and Twin XL
Full, Short Full and Full XL
Queen and Short Queen
King, Short King, Cal King and Split Cal King
RV Bunk
RV King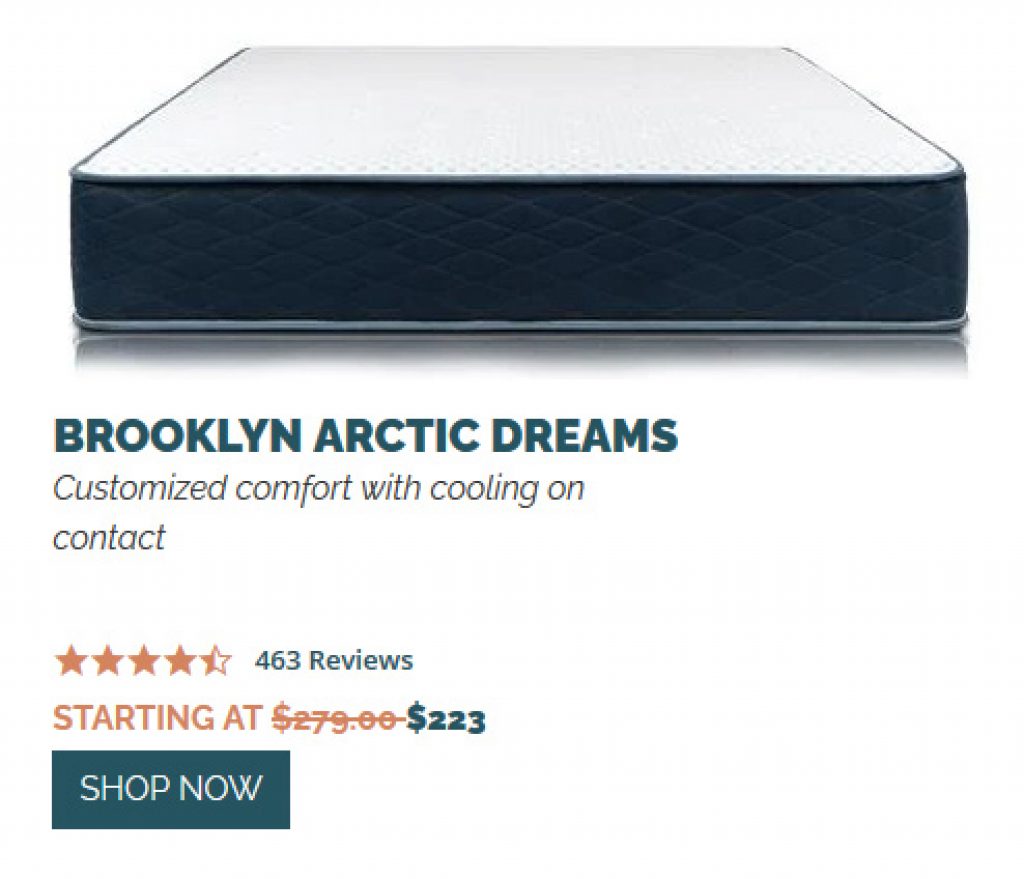 ---
Brooklyn Signature
The Signature hybrid is the company's best-selling mattress, and that's because it includes so many premium features at a competitive price. The Signature combines memory foam and individually pocketed coils to offer the highest value bed in their collection.
Ascension coils for improved comfort and compression support.
A premium quilted top layer that resists body impressions and helps you stay cool while you sleep.
A 2" layer of TitanFlex foam that offers the responsiveness of latex and contouring properties of foam.
A 2" layer of Energex, which is a firmer foam that offers deep compression support.
An infusion of TitaniumGel to help you stay cooler and comfortable while you sleep.
A 6" base of individually pocketed coils.
A 1" high density foam base for durability and reinforcing the coils while they compress.
Three layers of firmness for customized support: soft, medium and firm.
The Signature mattress is available in a variety of sizes, including:
Twin and Twin XL
Full and Short Full
Queen, Short Queen and Olympic Queen
King, Short King, RV King, CA King, Split Cal King
RV Bunk
The reason this mattress is so popular is because it combines the best of both worlds – foam and coils – but without the high price tag of a luxury mattress.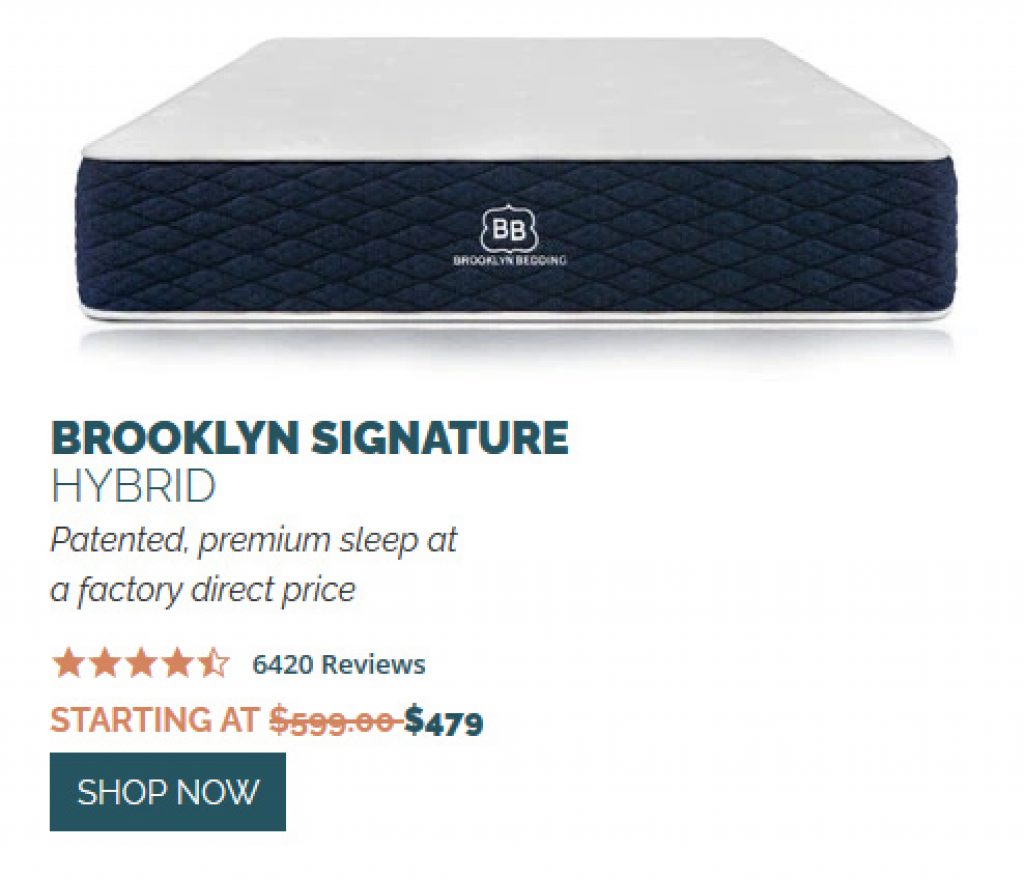 ---
Where to Buy RV Mattresses?
Ready to give Brooklyn Bedding a try? With a 120-day trial and 10-year warranty, you can try these RV mattresses at no risk to you.
But where can you buy them?
The only place to purchase a genuine a Brooklyn Bedding mattress is directly from the manufacturer. Each mattress is made on-demand, ensuring the highest-quality, freshest mattress you can buy.
Buying direct from the manufacturer ensures that you get a legitimate Brooklyn Bedding mattress and the 10-year warranty that protects your investment.
Offering superior craftsmanship and durability, Brooklyn Bedding is a leader in the RV mattress industry and will help you enjoy lasting comfort while traveling on the road.