Whynter Fridge (FM series) Portable Refrigerator Buying Guide
Whynter Fridges are some of the most popular refrigerators and coolers in the RV world. The company's FM series offers an array of refrigerator models, from the best-selling 12-volt refrigerator with a 34-quart series (the most popular models) to 95-quart models.
What to Look for in a Your Whynter Portable Refrigerator / Freezer?

Whynter's FM series comes with portable fridges / freezer combos that you can bring in your RV or on the road camping. Durable and long-lasting, you'll receive the same great quality and warranty with all of the models in the series.
But there are a few things to consider before making your purchase.
Whynter FM Series Models
FM-452SG Whynter Elite 45
FM-45CAM Whynter 45
FM-45G Whynter 45
FM-62DZ Whynter 62
FM-65G Whynter 65
FM-85G Whynter 85
FM-901DZ Whynter 90
FM-951GW Whynter 95
FM-951YW Whynter 95
FMC-350XP Whynter 34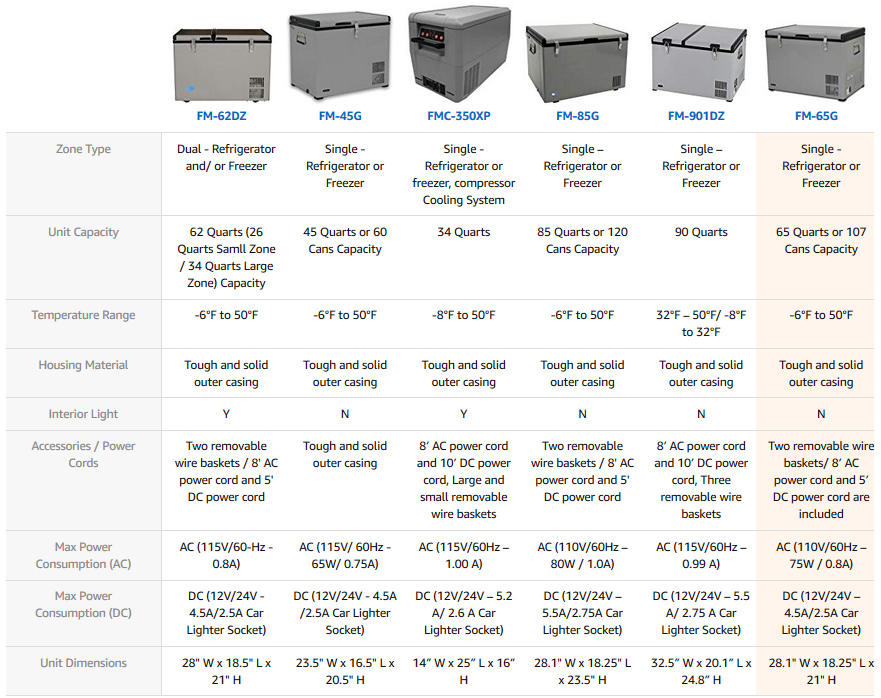 Each number at the start of the model number indicates how many quarts each model will be able to hold.
Size
How big is too big?
Most consumers will want to go with the 45-quart models, which provide a smaller footprint that's ideal for an RV and truck cabs.  Larger models will hold more food, but they take up immense space and may only be ideal for larger RVs or families.
Whynter provides internal and external dimensions for all of their products.
The FM-951YW Whynter 95 is a 95-quart model that is on wheels, and it has a gross weight of 68 pounds. The external dimensions are: 24" W x 19" L x 33" H.
If you plan on keeping your refrigerator in your RV, you can use the dimensions to make sure the unit fits.
Wattage wise, a similar wattage is used for this 95-quart model and the 34-quart model: 70 watts. You won't need to worry much about a larger unit causing a drain on your battery.
Refrigerator / Freezer Combos
The FM-45G, which I will be reviewing in more detail below, can operate as both a refrigerator and a freezer. You'll have to choose one or the othe,r as there is not a zone for each, but there is a rapid cooling feature for fast freezing.
Note: DZ models, which include a 62-quart and 90-quart option, do have dual zone options to allow for a fully functional refrigerator / freezer combo.
This is ideal when going on a fishing trip and needing to make sure that all of your fish come home in good condition.
The FM-45G is able to hold 45 quarts of food or drinks, and this comes out to roughly 60, 12-ounce cans.
Additional models have the following capacities:
85-quart holds about 120, 12-ounce cans
65-quart holds about 107, 12-ounce cans
While the company does not specify the total can capacity of larger units, you can assume that they'll hold at least 120+ cans.
There are also models that come with removable wire baskets that allow you to store produce or other items securely.
Your biggest decision when choosing a Whynter is size. Bigger is better, but you need to be able to fit the model in your RV. If you're not planning on using your Whynter in your RV, you may want to consider a larger model.
Most models do come on wheels, so they're easy to transport and maneuver.
Dual zone models are definitely nice, and they'll allow you to have one section frozen and one refrigerated. Temperatures can range from –6F to 50F, so you can freeze meats or keep drinks chilled perfectly.
Whynter FM-45G 45-Quart Portable Refrigerator / Freezer Review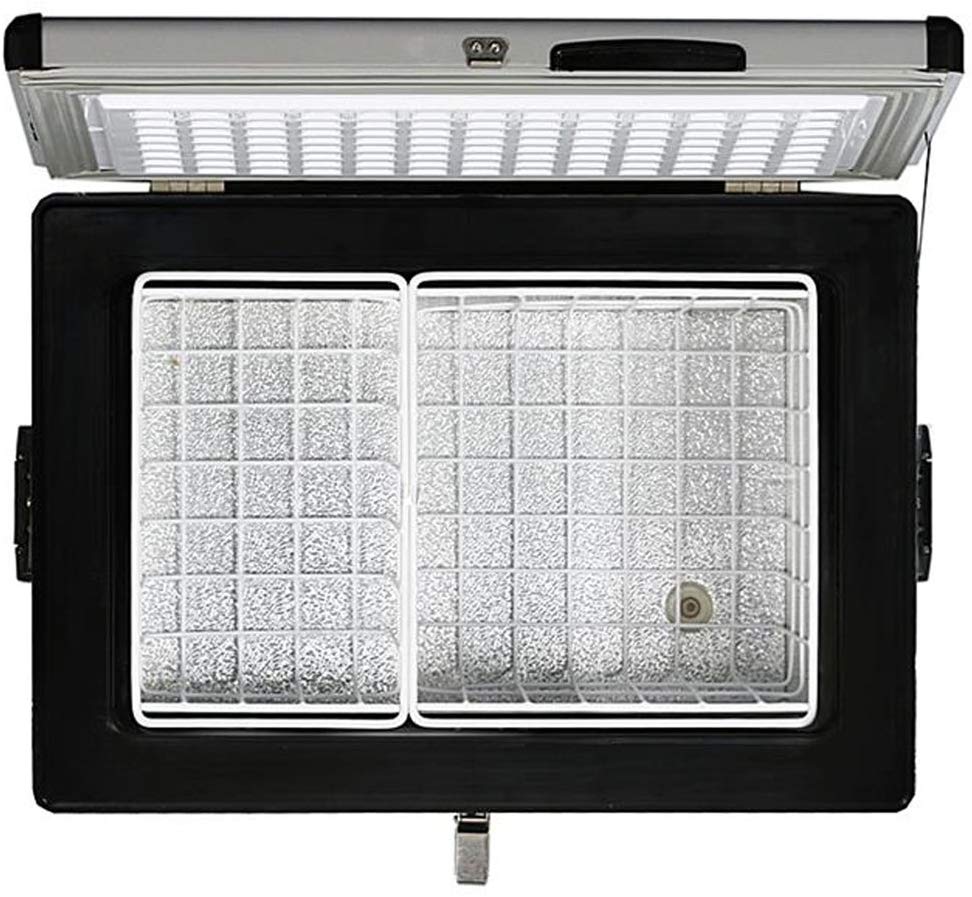 A 45-quart model is the perfect mid-size model for RVs, camping or any of your traveling needs.
When you use this model, you'll be able to chill 60, 12-ounce cans at one time. You can operate this model as a refrigerator or freezer, but it does not have a dual zone function.
You'll have to choose one or the other, but Whynter does include a "fast freeze" option.
Let's say that you're out on a fishing trip and decided to refrigerate drinks for your trip. You get to the lake, and it's been an amazing day. You've caught five fish, cooked up two and have three left.
Well, you have the option of using the fast freeze option to rapidly chill the unit to –8F.
Your drinks will stay warm, but all of the fish that you caught will be fresh.
But Whynter does so much more than just fast freeze.
You'll be able to enjoy an array of features, like:
Fast freeze down to –8F
AC or DC power
65-watt power consumption
45-pound weight
Removable wire baskets
-6F to 50F temperature ranges
Offering a powerful compression system, this 2-in-1 appliance has a durable exterior casing that allows it to be used in any situation. Dual voltage allows you to use a 110-volt outlet or a 12V power source.
The 12V source is an automotive battery.
Power consumption is as follows:
AC – 65W or 0.75A
DC – 12V/24V or 4.5A/2.5A
There's an 8-foot AC power cord and a 5-foot DC power cord included. If you're worried that the unit may drain your battery, there is a low power indicator built in to alert you of any power-related issues.
Each unit is ETL approved, and the dimensions of the product are 23.5" x 16.5" x 20.5". Offering a compressor cooling system, this model uses R-134A refrigerant and also comes with insulated walls to keep the unit cooler for longer with less energy consumption.
The lid is also insulated for additional energy efficiency.
When it comes time to adjust the temperature range, you'll be able to adjust between –6F and 50F using an LED temperature display.
Weighing 45 pounds, there are two handles on the side to make carrying easier. The unit's solid outer casing allows for the utmost in durability, and Whynter has ensured that the portable unit can operate even when tilted on a 30-degree angle.
The latch is built into the unit to keep the lid in place, but there is not a door lock with keys as some other models offer. An interior light is also not present, but it adds to the energy efficiency that this unit provides.
Whynter has been around for a long time, and you'll be able to find people that have been using this same model for years. One of the issues that pop up is that the unit is voltage sensitive. When this happens, the controller can burn out and may need to be replaced.
The good news is that the controller is just $50 and an easy swap.
Controllers are a common plague of the portable refrigerator industry, and there are very few users that have had the unit's controller go out.
Due to the weight of the unit and not having wheels, it's a portable model that most owners will install and leave in one location. If you do want a model with wheels, the company does sell larger units with wheels.
The handles on the side do help with transport, but if the unit is filled, it can weigh nearly 50 pounds, so it's quite heavy.
Overall, the Whynter FM-45G is a durable, long-lasting portable refrigerator that runs on both AC and DC, requires minimal power consumption and can operate as a refrigerator or freezer.