Want to keep everything onboard your RV running without draining your RV battery? An RV power converter takes care of these essential jobs when you are using your generator or you plug in at a campground.
In this guide, we are going to tell you what you need to know about choosing a power converter for your RV. But to start, let's go over the basics and explain what an RV power converter does.
What is an RV Power Converter?
RV electrical systems can be complicated, but we will try to make this as simple as possible. Basically, your RV has two electrical systems:
120-volt AC: For your high-volt appliances.
12-volt DC: For your low-volt appliances.
So, for example, your heater or air conditioner use the AC power, and your lights use the DC power.
Additionally, your vehicle can draw power from any of the following sources:
The battery.
The generator.
External power (i.e. plugging in at a campground).
To run the 12-volt appliances, you need 12-volt DC power, not the 120-volt (or 110-volt) AC power you get when you plug in or use your generator.
The job of your RV power converter is to convert some of that incoming power into the 12-volt DC power you need for those low-voltage appliances.
Now, if you are not plugged in and you are also not running your generator, you could run those appliances, but you would need to use the battery.
Obviously, you do not want to be bleeding your battery dry all the time when you are plugged in.
Thankfully, the power converter can prevent that from happening. Drawing from the battery becomes unnecessary since you can convert the power from the electrical source you connected to.
What Size Power Converter Do I Need for my RV?
Now that you know what an RV or camper power converter is for, let's start discussing how you can choose one that is appropriate for your vehicle.
Ultimately, choosing the right size of power converter has nothing to do with the size of your vehicle.
Rather, it has to do with the size of your power needs.
To figure this out, you will need to:
Account for all of your lights.
Account for all of your DC devices.
Figure out the amps for each of the lights and devices.
Figure out what the maximum amps will be at any given time.
Don't know how to figure out the amps? If you have watts listed for your devices instead of amps, divide watts by volts and you will get the amps.
In other words, do not just add up all the amps across all your devices. You surely will not run everything simultaneously all the time.
But think hard about what the maximum is likely to be based on your habits as well as any outlier situations you can imagine.
Once you get that amount, tack on around 5 amps. Why? Because the converter will also be charging your battery.
After you have the total amps calculated, you can use that to choose the right size of power converter for your RV.
What to Look for in a Power Converter
1. The right size
As just discussed, you need to pick the right size converter for your vehicle. That means running the calculations we just went over to make sure you will get a converter that is sufficient for powering all of your devices.
2. The right type of converter
There are a few types of RV power converters out there:
Multistage converter: Contrast this with the single-stage converters that dominated the market in the past. The biggest advantage of a multistage converter is a broader range of compatibility with respect to RV electrical systems. Other advantages include rapid charging and clean power.
High-output converter: As it says on the tin, this is a type of converter that can deliver high amps.
Distribution panel converter: This type of converter is built for placement in the cut-out wall. There is a high emphasis on keeping the unit and its parts accessible.
Deck mount converter: You can place this type of converter on a sidewall or even on the floor. Its flexibility is its main advantage, since there are numerous possibilities for installation. Consider it if you need to save space and are looking to put your converter somewhere clever where another model might not be able to go.
3. Noise level
RV power converters can be noisy or quiet depending on the quality of their manufacturing. Obviously, if you will be running the converter a lot, you want to pick a quiet unit.
4. Ease of installation and repairs
Some RV power converters are faster and easier to install than others. Likewise, you will find some units easier to repair than others as well. This can be a major factor in choosing one model over another that is otherwise similar.
5. Cost
Last but not least, consider the cost of a converter. There can be a pretty wide price range, and pricier isn't necessarily better in every case. You don't want to get a cheap, unreliable unit either. But you will find plenty of solid mid-range options that offer an excellent bang for your buck.
Top Power Converters For Recreational Vehicles
Now that you know some important features to look for in an RV power converter, let's take a look at some top products on the market. Remember to assess your needs carefully before choosing a converter so you get the type that is right for your RV or camper.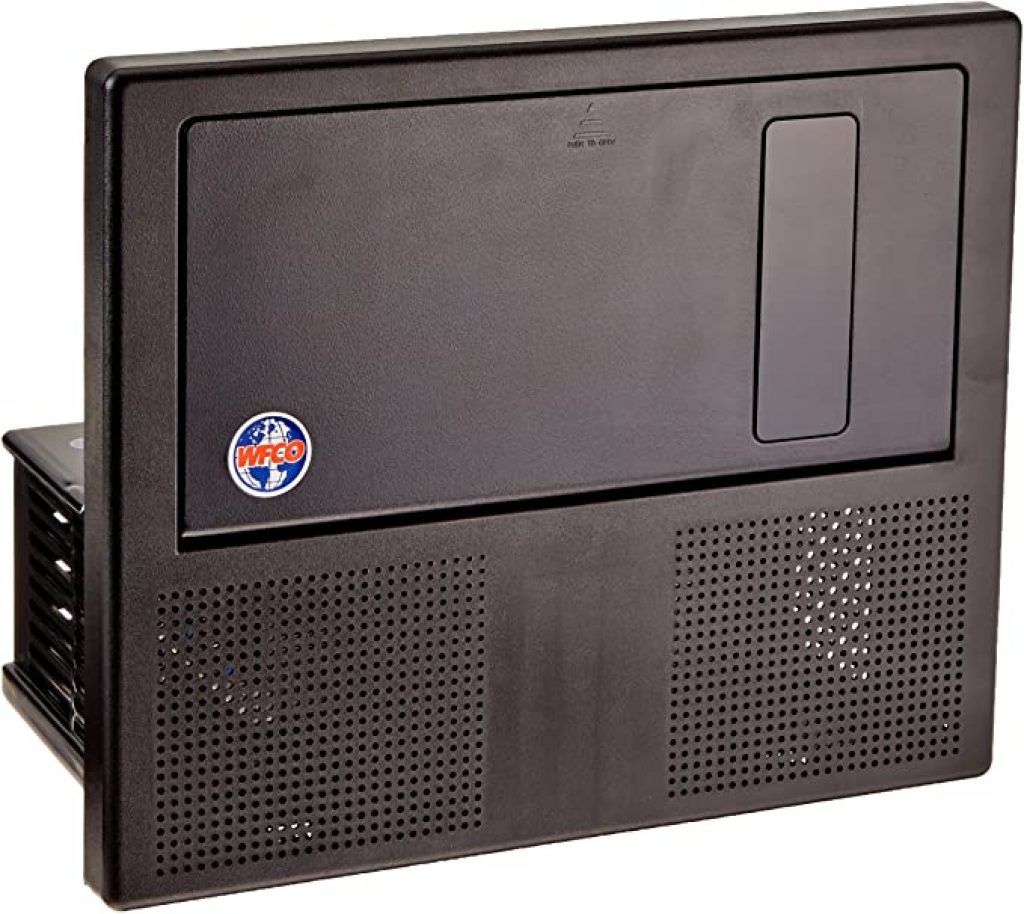 Output: 55 amps
Input: 105-130 VAC, 60 Hz, 940W
Dimensions: 14 x 11.88 x 8.25 inches
8 pounds
Plastic case
Here is a converter that is worth considering at a very reasonable price. It offers 55 amps of DC power. As it is clean power, it is perfect for your sensitive electronics.
Special features include three nominal voltage output modes for charging your battery automatically and a cooling fan that runs when necessary and shuts off automatically the rest of the time to ensure quiet operation.
This unit also will turn off automatically if there is a short-circuit or overload thanks to electronic current limiting.
Best of all, installation is pretty easy. If you know what you are doing, you can take care of it in around half an hour.
2. Progressive Dynamics (PD9270V) 70 Amp Power Converter with Charge Wizard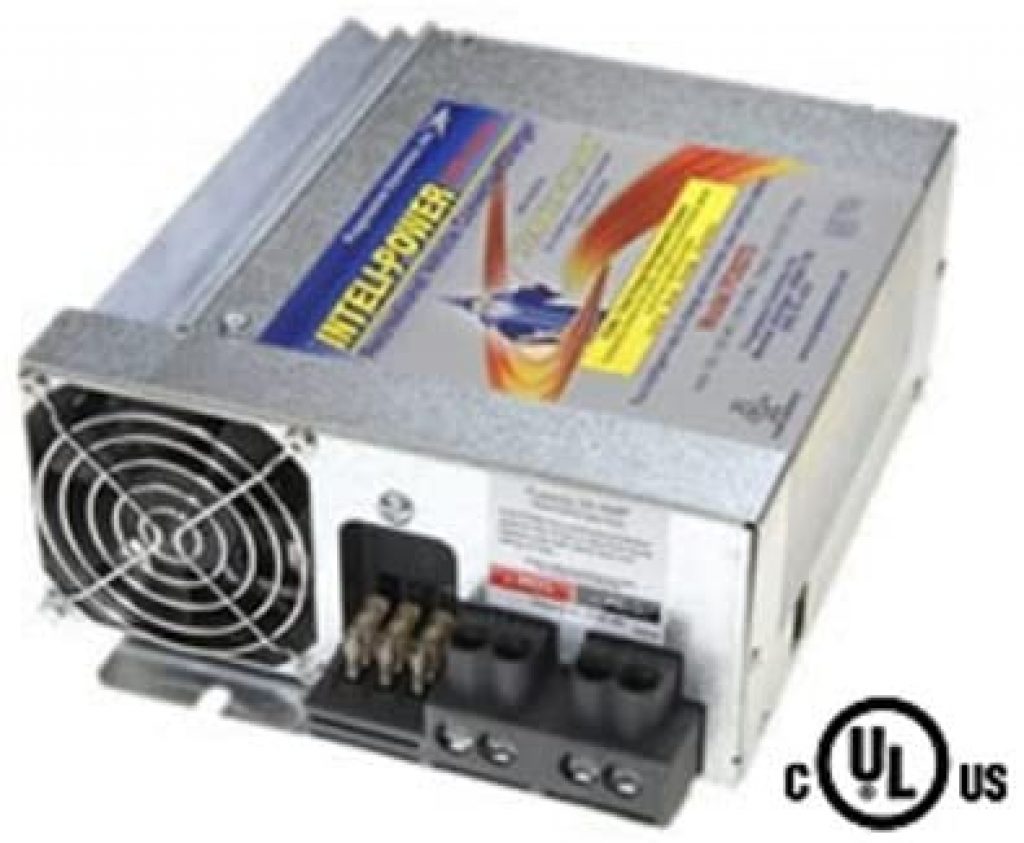 Output: 70 amps
Dimensions: 9.15 x 7.38 x 3.6 inches
5.8 pounds
If you are looking for a high output converter for your RV, you can consider the Progressive Dynamics (PD9270V) 70 Amp Power Converter.
This product includes features such as a built-in Charge Wizard, reverse battery protection, low line voltage protection, and high voltage protection. If you want to add a Converter Status Remote Pendant, you can purchase it separately and connect it using the built-in accessory port. If the unit overheats, it will shut down automatically.
What can you do with the Converter Status Remote Pendant? If you add this accessory, you can see a display that tells you what mode the converter is running in. You also can use it to switch the mode if you want.
Some buyers have commented that this unit can ship without a manual. You will need to look up the manually electronically. So, make sure you locate all necessary materials to help you with the installation before making your purchase.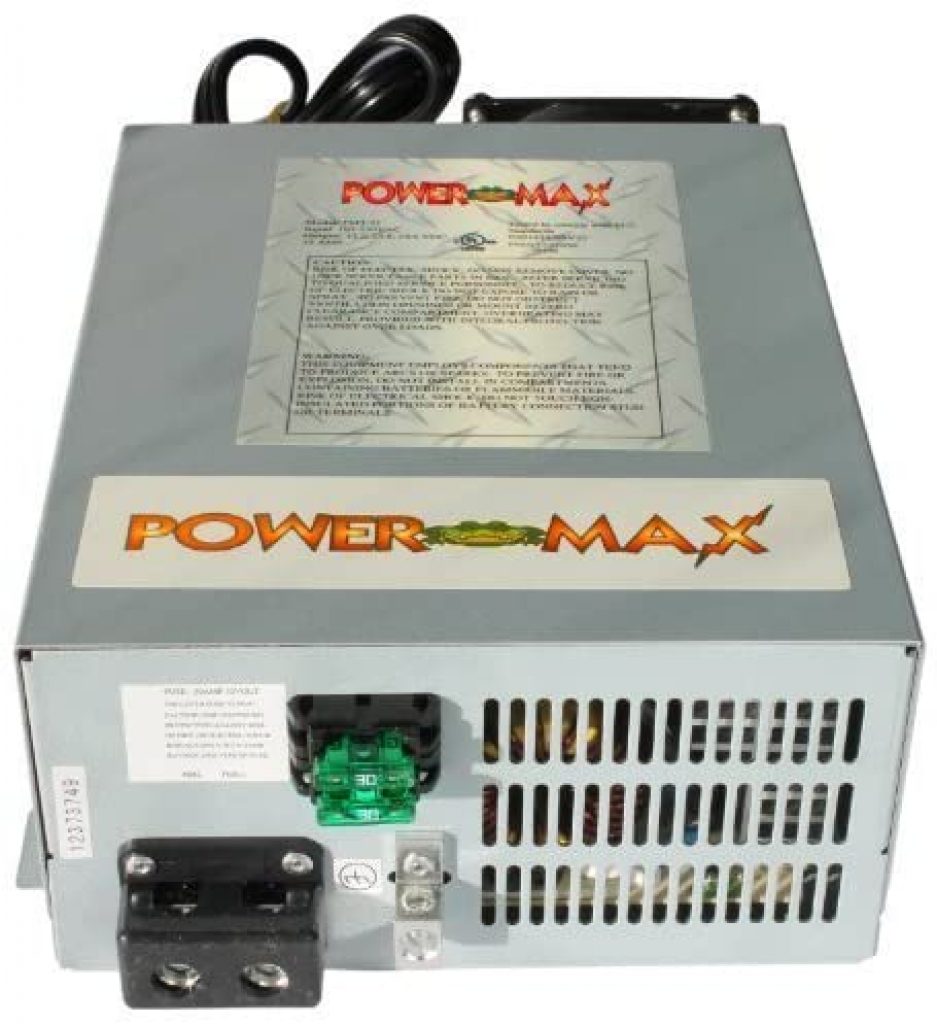 Output: 55 amps
13.2 Vdc range
13.6 Vdc range
14.4 Vdc range
Dimensions: 11 x 8 x 4 inches
6.93 pounds
This product is reportedly easy and fast to install with the aid of the PDF that provides instructions. That being said, some people say that the instructions are not well written, so your mileage may vary based on your experience. If you have installed a converter before, you will likely find it easier than if this is your first converter.
Excellent features include a three-stage charging process and a high-quality metal case. It is a rugged unit that offers reliable performance.
Where Can You Buy an RV Power Converter On Sale?
Now you know what an RV power converter does and how to choose one. You also have had a chance to compare some of the top RV power converters on the market right now.