Dometic CFX Series Portable Electric Cooler Buying Guide
Dometic's CFX series of portable electric coolers are exceptional. The line-up features compact power that will keep all of your food and drinks chilled, or you can turn down the temperature to freeze your items. The Dometic cooler is an industry leader, and it's easy to see why.
When looking at just the CFX series, it's obvious why the company's lineup of electric coolers, portable refrigerators and mini fridges are often rated the "best."
Dometic's CFX series has something for everyone:
Ultra-compact coolers
Dual temperature zone options
Mid-sized coolers
And Dometic products can be found in 100 countries, with the company operating 28 of its own manufacturing and assembly sites.
Dometic CFX Series: Dive into the Best Portable Coolers

Dometic is different, and the brand is at the helm of the industry because they offer features and quality that others cannot match. The CFX series is very similar, with the main difference from one model to the next being the size of the electric cooler.
If you want the best overall portable cooler, I recommend the Dometic CFX50W, which is a nice compromise between price, size and function.
But there are a lot of models to pick from:
Dometic CFX 28
Dometic CFX 35W
Dometic CFX 40W
Dometic CFX 50W
Dometic CFX 65W
Dometic CFX 65DZ
Dometic CFX 75DZW
Dometic CFX 75DZWSE
Dometic CFX 95DZW
Dometic CFX 100W
You'll notice that there are letters after each model – except the CFX 28:
It's easy to overlook these letters, but they explain what each model offers. Let's start with the very base model: CFX 28 to see what every model in the CFX Series has to offer before diving a bit deeper into these abbreviations at the end of each model number.
Base Features and Specifications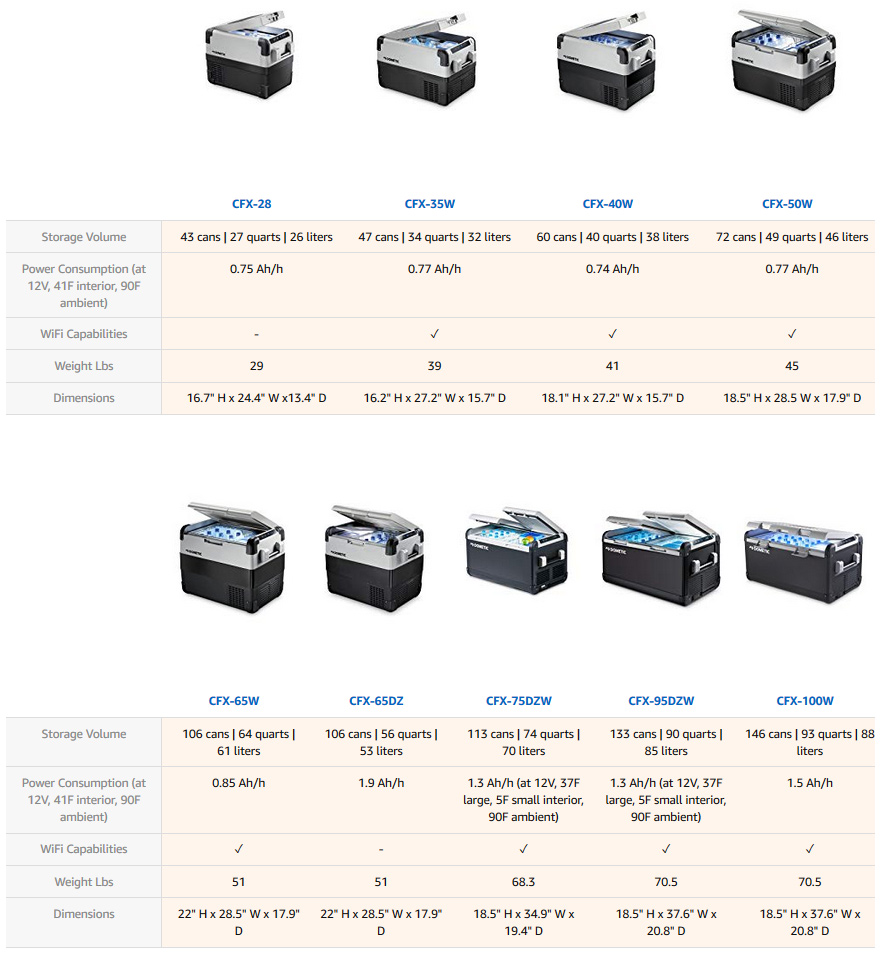 Every model has a different capacity, with the 28 offering 43 Can/26l Capacity. Higher model numbers mean that the unit is slightly bigger. The main features that these 12v refrigerators all share in common are:
Compressor
Dometic has integrated an ultra-low power compressor into each of their models. The compressor allows you to use:
Solar power is a nice added touch, allowing these coolers to be the perfect choice for camping trips, tailgating or going on the road in an RV. OTR truck drivers have these refrigerators in their cabs to keep their food and drinks cold or frozen as needed.
When it comes to freezing, the compressor is powerful enough to force temperatures to freezing levels within just 15 minutes.
Storage Capacity
While each unit has a different capacity (and dimensions which we'll outline below), the storage capacity has been increased by 60% while still having the same exterior size. This capacity increase is compared to the capacity of an ice chest.
Battery Protection
Dometic is all about quality and safety, and this is easily seen with the three-stage dynamic battery protection system. The battery's protection system will automatically shut the battery off to prevent your vehicle's battery from dying.
Since the automatic shutoff feature is present, this will also improve your vehicle's battery performance as a whole.
You never have to worry about the cooler draining the battery of the vehicle at night, causing you to be stuck at a truck stop or at the campground.
Storage Optimization
When it comes to interior storage, you need to be able to enjoy a modular design. Modular designs allow for true customization in your storage. The CFX series doesn't try to constrain the user.
Wire baskets are used, along with dividers, that allow you to keep food items separated as you see fit.
You can also remove dividers to expand space slightly. If you divide your produce from cold cuts, or your condiments from other food items, the dividers come in handy. For the organized person, the baskets and dividers make it much easier to find the food items you want quickly and easily.
There's also an interior LED light, which is energy efficient, that will illuminate the interior storage space for you.
Durability
The Dometic CFX series is known for being durable and long-lasting, and this is due to the steel design. These electric coolers have a removable powder coated steel handle along with glass-filled nylon mounting brackets.
CFX coolers also come with a limited two-year warranty, so if something breaks or there is a defect that isn't caused by normal use, you can invoke the warranty.
Dometic provides protection for your new investment, and the warranty starts from the date of original purchase. If you're buying a used cooler, keep in mind that the Dometic warranty is only granted to the original purchaser.
W Features
The W stands for one key feature: WiFi App. When it comes to temperature control, a WiFi app allows you to control and monitor your cooler's temperature at all times. You'll be able to control the temperature between +/-2°F.
With a digital display, you can be sure that your refrigerator is set to the recommended 40°F.
DZ Features
The letters "DZ" mean that the unit still comes with a digital display, and precision temperature control and monitoring. But his model is a little different than the other models because it has a dual zone cooling compartment.
A dual zone compartment allows you to keep foods cool in one zone and frozen in another zone.
When you're out camping or traveling in your RV, the dual zone capabilities allow you to keep meats frozen for cooking around the campfire or drinks frozen for a long hike. Larger capacity is needed for dual zone models.
DZ models allow for independent, variable temperature controls for freezing and cooling simultaneously.
DZW Features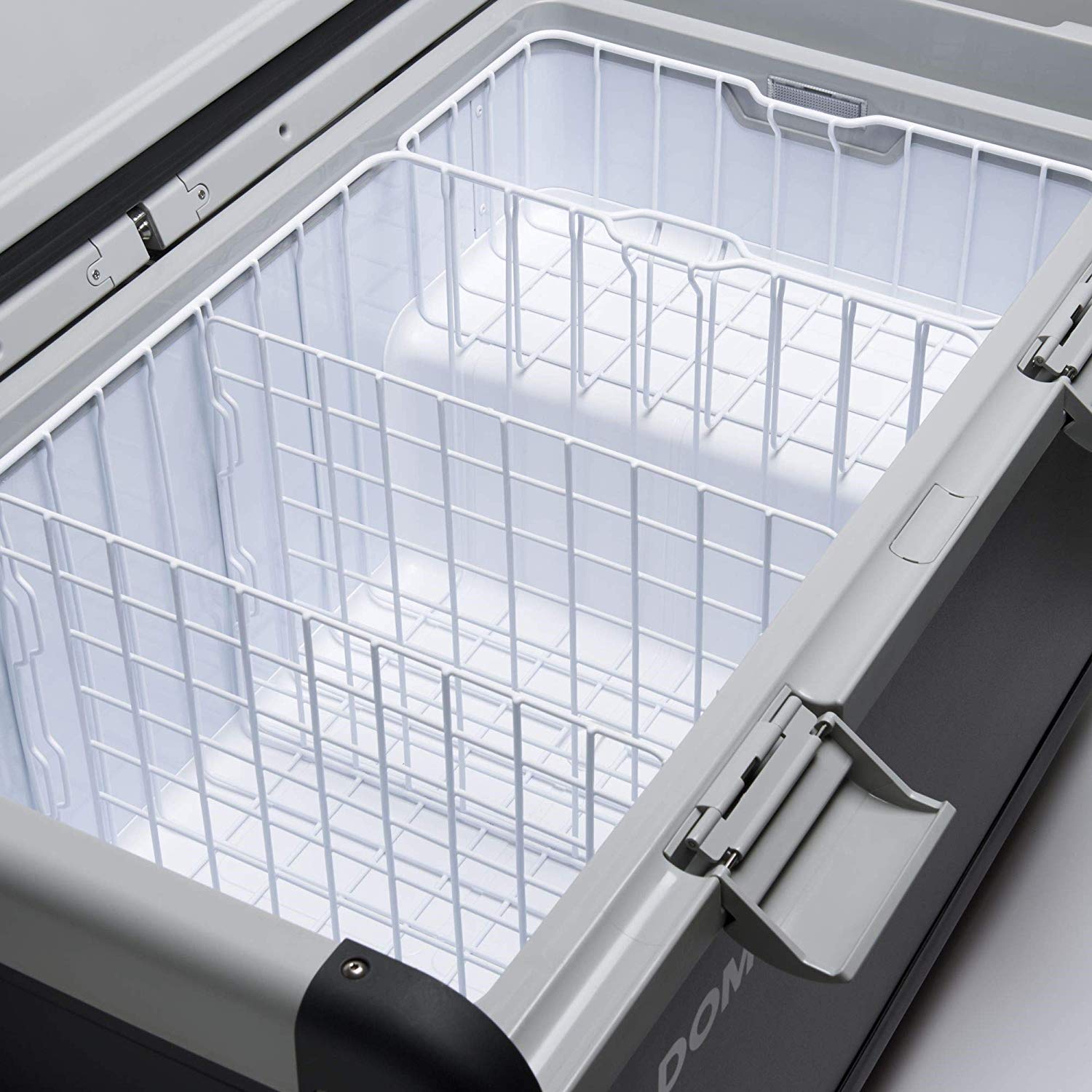 "DZW" models come with dual zone compartments as well as precision control and the WiFi app.
DZWSE Features
SE stands for special edition models, and when comparing the CFX75DZW and CFX75DZWSE, you'll see that there's not all that much difference between the two. The SE model comes in a sleek matte black color with stainless steel handles.
Otherwise, the main components are the same as the DZW models.
Electrical Components
Dometic allows you to easily compare models. When looking at the CFX28 and the CFX 100W, you'll see that the internal components are the same. The CFX 100W is notably larger, but in terms of electrical components, the specs are as follows:
Input voltage (AC) is 120-240V
Input voltage (DC) is 12/24V
Input frequency of 50/60 Hz
Keep in mind that the rated input current for AC and DC will increase as the unit's size increases. The CFX 28 has a rated input current on AC at 0.65A, while the 100W has a 0.95A rated input current.
DC rated input is 6.5A for the CFX 28 and 10.5A for the CFX100.
Energy consumption at 12VDC is higher for the CFX100 (1.50 Ah/h) and CFX 28 (0.75 Ah/h).
Performance Specifications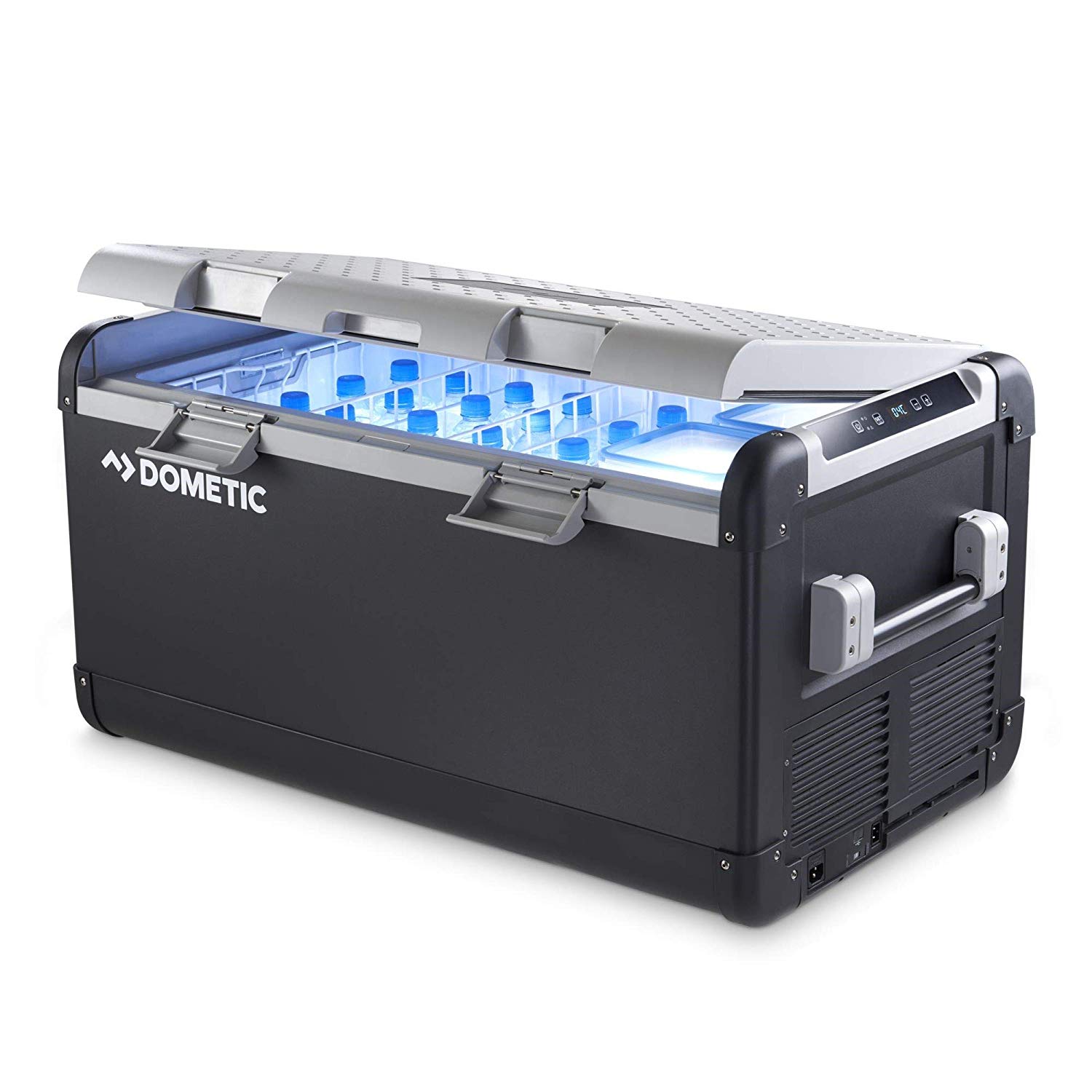 Performance is key when it comes to electric coolers, and the entire CFX series uses the R134a refrigerant. The refrigerator amount varies from model to model. The noise production for the smallest model is 34.00 dB(A) and 37.00 dB(A) for the largest model.
Insulation thickness across the board is 55.00 mm, with polyurethane used as the insulation type.
Temperature ranges vary between -7°F and +50°F.
All models come with a UL certification and a 5V, 500 mA USB port. There are threaded inserts in the base of each model for easy mounting. The inserts are M6, and there is a drain plug to drain out the unit's contents.
Size and Capacity of CFX Models
Each case gets incrementally larger, allowing for one person to keep their food cool or an entire family. The size and weight of each model is as follows:
Dometic CFX 28: 16.7" H x 24.4" W x 13.5" D with a 43 can or 26l capacity.
Dometic CFX 35W: 16.2" H x 27.2" W x 15.7" D with a 47 can or 32l capacity.
Dometic CFX 40W: 18.1" H x 27.2" W x 15.7" D with a 60 can or 38l capacity.
Dometic CFX 50W: 18.5" H x 28.5" W x 17.9" D with a 72 can or 46l capacity.
Dometic CFX 65W: 22" H x 28.5" W x 17.9" D with a 106 can or 60l capacity.
Dometic CFX 65DZ: 22" H x 28.5" W x 17.9" D with a 106 can or 60l capacity.
Dometic CFX 75DZW: 18.6" H x 34.9" W x 19.5" D with a 113 can or 70l capacity.
Dometic CFX 75DZWSE: 18.6" H x 34.9" W x 19.5" D with a 113 can or 70l capacity.
Dometic CFX 95DZW: 18.6" H x 37.7" W x 20.9" D with a 133 can or 85l capacity.
Dometic CFX 100W: 18.6" H x 37.7" W x 20.9" D with a 146 can or 88l capacity.
Weight also varies from model to model. The CFX 28 weighs 28.88 pounds and the CFX 100W weighs 70.56 pounds.
Diving Deeper into the CFX Series
When it comes to portable cooling, the CFX Series offers low noise production and has heavy-duty, reinforced corners to protect the cooler from damage. Since the units are 2/3 the size of original cooler, they take up less space and don't require ice.
Since no ice is required, there's more internal storage while taking up less overall space.
The CFX 28 and CFX 65DZ are the only models that do not have WiFi app control. A built-in USB port allows you to charge small electronic devices, such as a tablet or phone. All models come with the standard 2-year warranty, too.
When it comes to cleaning the interior, there's also a drain plug that makes cleaning a breeze. Multiple power sources allow you to power the cooler the way you want. You can use this series to provide a portable cooler for your:
The coolers are not waterproof, so they cannot be left on their side when it's raining or out in the water. When reading reviews about the company, you'll find that their customer service is one of the best in the industry.
So, if there are any issue or defect with your cooler, the manufacturer will fix or ship you a new one promptly.
You'll find that customer service is quick to respond to any customer complaints.
The CFX series meets everyone's needs for portable cooling. You can adjust the temperature range to freeze or keep food cool. Dual zone models allow for freezing and cooling all in the same unit. Energy efficient design concepts keep your battery from dying, and the exterior is durable, with reinforced corners so that the cooler can take even more abuse.
Customer service is excellent, and if there is an issue with your cooler, Dometic will honor your two-year warranty and repair or replace your cooler quickly.
Save 5% On Your Order With Dometic Coupon Code PATHFINDER