Looking for a portable fridge freezer that you can use inside and outside of your RV? Meet the Alipcool C series. Offering DC 12V/24V input, these fridge freezers offer a compact size, quick cooling and thick insulation to keep your items cool even after it's powered down.
Take it with you on the road and bring it out for your next barbeque. The C series of coolers are versatile, easy to use and have advanced control panels.
Is the Alpicool C series the best amazon portable freezer? Let's take a closer look at what these coolers have to offer.
Alpicool C Series Features


The Alpicool C series offers several convenient features that make it a great option for RVs. There are several models in this series, and they each offer a compact size that makes it easy to store and freeze your items while you're traveling and without taking up too much space.
All models in the C series offer:
Bluetooth function
Fast freezing
Temperature range of –4F-68F
Compressor refrigeration
Anti-shaking
Battery protection
Quiet operation
Fast Freezing
One great thing about these portable freezers it that they work quickly to cool and freeze your foods. You can use any one of the models in this series as a refrigerator or a freezer, which makes it a highly versatile addition to your RV setup.
The C series cooler can go from:
77F to 32F in 15 minutes
32F to 10F in 30 minutes
10F to –4F in 1 hour
The great thing about these freezers is that they don't need any ice to cool your items. This means that you won't be left with a big puddle of water when it's time to empty the cooler.
The built-in, efficient compressor has adjustable ECO and HH modes, which saves on energy while quickly cooling your items.
Easy Use
All C series coolers have an advanced control panel and Bluetooth connectivity that allows you to quickly and easily control the temperature and other freezer functions. Electronic temperature control allows you to choose your exact temperature setting.
Latches and handles make it easy to open and transport this freezer. All models are lightweight, so It's easy to move around the RV or even lift it up onto the counter when needed.
Battery Preservation
Many of you may be concerned about battery use, and rightfully so. The last thing you want is to drain your RV's battery because you want to use a freezer. Fortunately, Alpicool's freezers have low energy consumption and battery protection. They use just 1kWH for two to four days, depending on your settings.
There are three battery protection modes, and the freezer will automatically power down when there's an overload or your battery's voltage is low.
Insultation Protection
Alpicool's C series of freezers have 1.7" of insulation, which helps keep your items frozen or cool for up to 10 hours after the power has been turned off.
Durability
All of Alipcool's freezers are made with heavy-duty, durable plastic. This makes them light enough for easy transport and rugged enough to stand up to just about anything.
The C series coolers are vibration resistant to protect the unit while you're on the road. It's also a great option for 4WDing because it's safe to use up to 45 degrees from horizontal.
The C Series Portable Fridge Freezers Models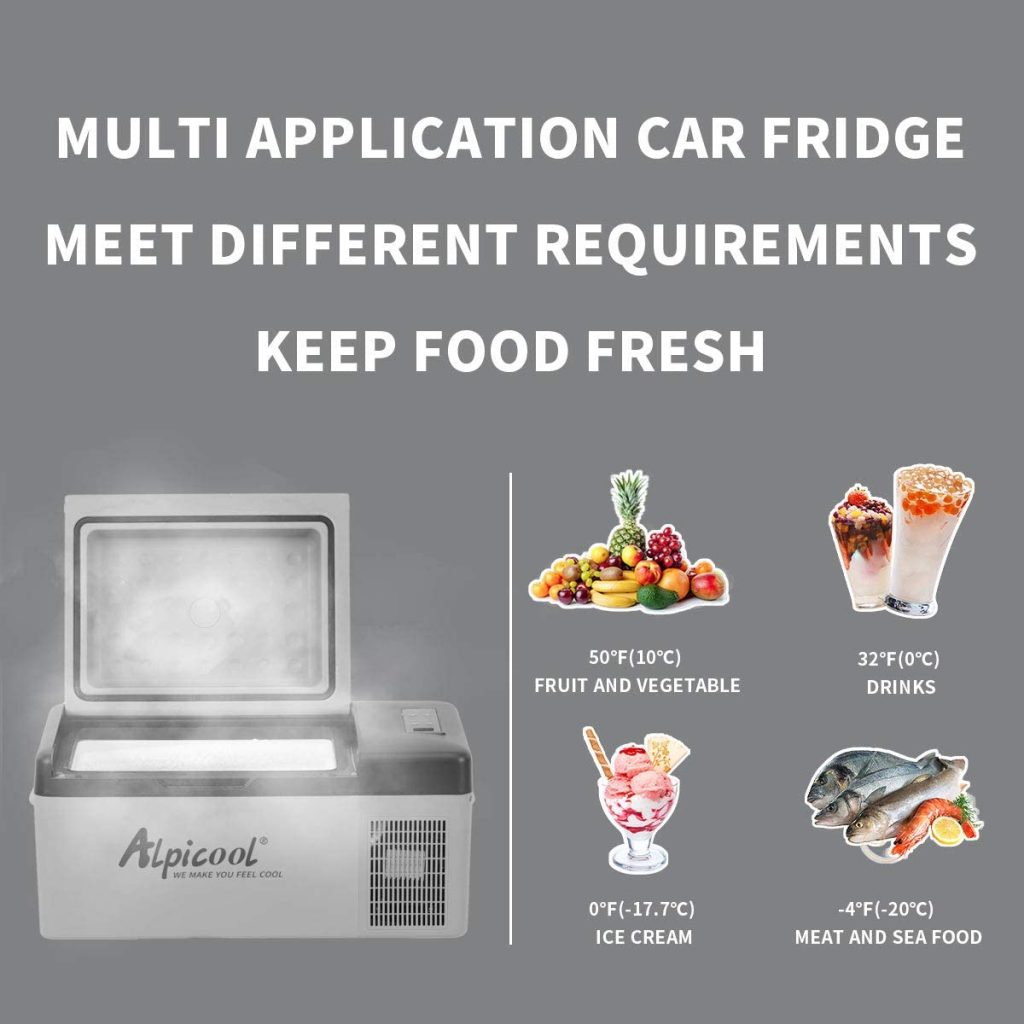 There are several models in this series of coolers, which each offer plenty of internal cooling space, a light weight and easy use.
Alpicool C20
The C20 model has a 21-quart (21 liter) capacity, which is enough space to fit:
30, 12-oz. cans
15-pack of 18-oz. water bottles
9, 25-oz. wine bottles
This model is nice and compact, so it can easily fit in smaller car trunks. Overall dimensions for this cooler are 12.6" x 23.5" x 12.6."
The interior has dimensions of 13.8" x 9.7" x 9.9," so it's very roomy. With a weight of 19.8 lbs. this portable freezer is easy to transport.
Alpicool C15
The C15 model offers a 16-quart (15 liter) capacity, which is large enough to store:
20, 12-oz. cans
10-pack of 18-oz. water bottles
4, 25-oz. wine bottles
This model is more compact than the C20 model, making it even more portable. The C15 has the following dimensions:
2" x 23.5" x 12.6" overall
8" x 9.7" x 7.3" interior
With a weight of 19 lbs., this freezer is easy to take it with you on the go.
Alpicool C35
The C35 model offers a 37-quart (35 liter) capacity. That's enough space to carry:
36, 12oz. cans
20-pack of 18-oz. water bottles
12, 25-oz. wine bottles
The C35 is a bit bigger than the previous models on this list, and that's partly because it also offers different functionality. It can act as both a refrigerator and freezer, but it also offers individual spaces for these functions.
15" x 27.2" x 13.6" overall
Dedicated freezer room: 12.9" x 10.3" x 11.3"
Dedicated refrigerator room: 6.5" x 10.3" x 4.6"
This model also has some nice additional features that the previous ones do not offer, such as:
Built-in LED lights
Corner protectors
Removable internal basket
Alpicool C45
The C45 offers a 48-quart (45 liter) capacity. The bigger size allows you to store:
48, 12-oz. cans
28-pack of 18-oz. water bottles
15, 25-oz. wine bottles
Like the C35, this model has larger dimensions and dedicated spaces for refrigeration and freezing.
1" x 27.2" x 13.6" overall
Dedicated freezer room: 12.9" x 10.3" x 14.3"
Dedicated refrigerator room: 6.5" x 10.3" x 7.7"
This model also has:
Built-in LED light
Internal basket
Corner protector
Who is the Alpicool C Series For?
The Alpicool C series is really a great option for anyone with a vehicle – not just RV owners. It's such a versatile cooler that you can use for:
Sports events
Off-roading
Traveling
Camping
Fishing
BBQs
If you enjoy spending time outdoors or just want a convenient way to carry cold drinks and foods with you in your RV or vehicle, Alpicool freezers are a great option.