Who Offers the Best RV Roadside Assistance Plan?
So, you have decided to start RVing. It's a great decision. Whether you will be living in an RV full time or you are going to just head out now and again for an adventure, it makes for an amazing way to see the sights.
When you get your RV, you will need to insure it. But, here's the thing—not all RV insurance plans include roadside assistance.
But roadside assistance is hardly optional when you are driving an RV (more on the reasons why shortly).
So, you need to shop for an RV roadside assistance plan, either as part of your main policy or as an add-on or supplemental policy.
Why RV Roadside Assistance is a Must to Stay Safe and Mobile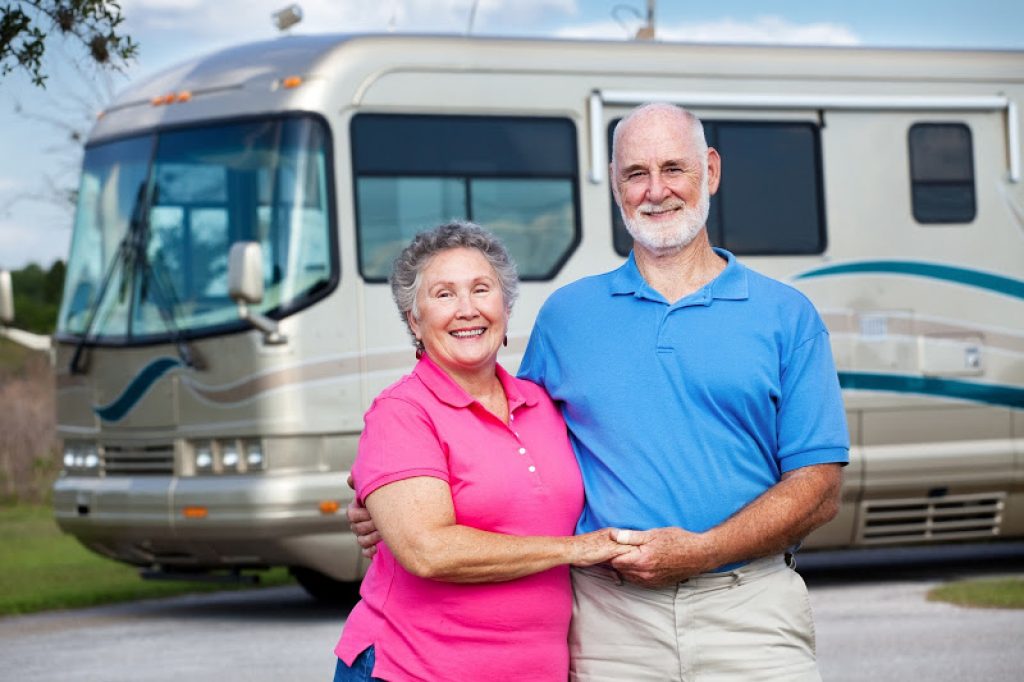 Basically, roadside assistance is important when you are in an RV for the same reason it is when you are driving any other vehicle.
If you go down with a flat tire or your battery drains out, do you really want to be stuck without anyone to help you?
In some cases, roadside assistance may be able to save you from hiring a tow truck. And towing an RV can be a lot more costly than towing a small car. So, you may save a lot of money with roadside assistance.
Also, if your RV goes down on the side of the road, you may have more to lose in general than you do if your car goes down. Maybe you live full time in that RV. Your house is essentially stranded and your life is stalled-out when your RV is non-operational.
If you want to keep your finances and your life on track, you need fast and reliable assistance.
Key Features to Look for in an RV Roadside Assistance Plan
Now that you know why it is important to get a roadside assistance plan for your RV, let's go over some important features to look for in a quality policy.
1. High or unlimited towing miles.
There are some problems that a mechanic may be able to fix without towing your vehicle. But not everything can be repaired right by the side of the road.
That being the case, you may need to have your RV towed.
Towing services may or may not be covered by your roadside assistance plan.
If they are covered, there may be a limit on how many miles you can get for free. With some RV towing insurance policies, that limit could be as high as 100 miles or something in that ballpark. But with others, it could be as low as around 5 miles.
If you are usually going to be parked close to a town, you might not need a whole lot of towing miles covered. If you plan to spend a lot of time in remote locations, it may be worth it to choose a plan that includes a much higher mile limit, or better yet, unlimited towing miles.
If there is a limit on the free towing miles, make sure that you are aware of the average cost to tow a vehicle like yours so that you are not caught by surprise should you need to pay for extra towing miles.
2. Assistance in RV Parks
So, one thing that can happen to you when you are an RV owner is that you might find yourself with a technical problem that prevents you from starting your RV and leaving a particular park.
For example, your battery could die while you are parked at an RV resort for an extended period of time. Meanwhile, you could be coming to the end of your lease, or you might have another reason that you need or want to leave right away.
If you cannot get roadside assistance, you would need to get a tow to the nearest repair shop, which would be very expensive. What if you cannot afford that, because you need that money to pay your first month's rent and a deposit at a new park?
But the thing is, you are not technically on the roadside in the traditional sense—you are in a parking lot on what can be considered residential turf.
For that reason, it is a good idea to make sure that the roadside assistance policy you are considering includes assistance when you are parked at an RV resort or trailer park.
That way, you can get the help you need to leave the park on time.
3. Comprehensive help.
Not every RV roadside assistance plan offers the same benefits. Some include far more features and services than others. Here are some useful features to be on the lookout for when you are comparing plans:
Lockout assistance
Tire services
Gas delivery
Battery jump starting
Oil delivery
Water delivery
Other forms of mechanical assistance
That is not an exhaustive list, but it gives you a starting point. Obviously, the more benefits and services included in the plan, the better.
4. High limits and few restrictions.
Previously, I mentioned that some policies include limits when it comes to free towing miles. There are other types of limits that you may encounter with roadside assistance policies as well.
For example, there could be a limit on how many times you can use your roadside assistance within a given time, such as over the course of a year.
The higher such limits are, the more flexible your policy will be, and the more likely it is that it will be there for you when you need it.
Also, be aware of geographical restrictions. There may be locations where you will not be able to call upon your plan.
5. Cost of the plan.
Naturally, one more factor to consider when you are comparing RV roadside assistance plans is the cost for each plan.
All things being equal, less expensive is the way to go. But going with the cheapest plan out there will not necessarily provide you with the top value.
In the long run, you will probably be happier if you spend a little bit more for a more comprehensive roadside assistance plan.
The trick is to make sure that you are getting the best bang for your buck.
Top RV Roadside Assistance Plans to Consider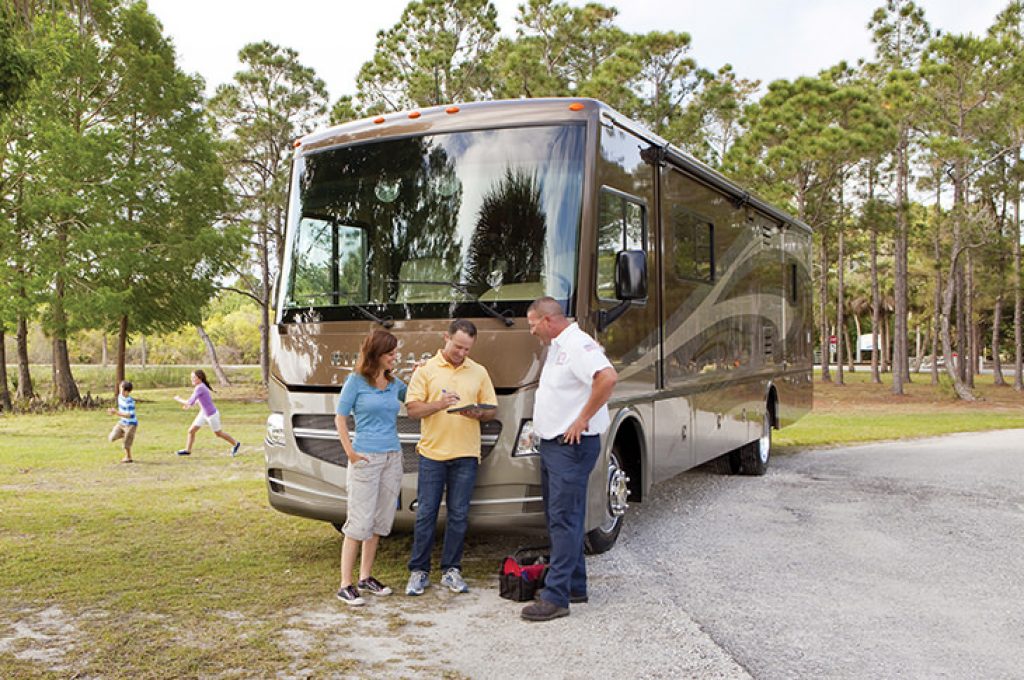 You now have a better idea of some of the variations you may find in roadside assistance plans for RVs and motorhomes. Ready to find the best plan for your needs? Let's take a look at some of the top roadside assistance plans for motorhomes and fifth wheels.
Good Sam

One of the best-known providers for RV roadside assistance plans is Good Sam. You might be wondering, "Is Good Sam roadside assistance worth it?" Let's go ahead and check out the details to see for ourselves.
Good Sam Roadside Assistance Plans
Good Sam offers three different roadside assistance plans. Here they are along with their pricing as of the time of this writing:
Standard: $129.95 (currently on sale for $64.95)
Platinum: $159.95 ($79.95 as of the time of this writing)
Platinum Complete: $239.95 ($119.95 as of the time of this writing)
The current discount is 50% off for all three plans. This is a temporary discount, so the next time you check, it may not be available. But Good Sam regularly runs big promotions like this, so another deal might be offered at that time.
The Standard plan provides coverage for owned vehicles, including a single travel trailer, cars, trucks, SUVs and motorcycles.
If you have more than one travel trailer to cover, you need to get the Platinum plan or higher. You also need to choose the Platinum plan or higher if you want to cover vehicles you are renting, leasing or borrowing.
Standard plan features include:
100% of towing fees "no matter if it's 5 or 500 miles"
Mobile mechanic (you pay for parts and labor)
Coverage area: North America
Flat tire service
Delivery of a spare tire if you need it
Battery service
Emergency fluids/fuel (up to five gallons) delivery
Lockout assistance
Reimbursement for up to $1,200 of expenses for lodging, meals and auto rentals if your accident takes place 100 or more miles away from where you live
Referrals for doctors, dentists, and lawyers
10% off AAMCO repairs
Wondering what additional services are included at the Platinum Complete level?
Tire & Wheel Road Hazard. If you need replacement of a tire, and/or wheel (or repair of either), you get financial coverage up to $750 per incident, with a limit of two incidents annually.
Emergency Travel & Medical Assistances Services. This is similar to the reimbursement service mentioned previously. It is more comprehensive, however. It includes benefits like repatriation, transport home and RV return after a medical emergency, and emergency medical evacuation. The limit of the benefits is $25,000.
All three plans include coverage not just for the driver, but for the driver's spouse and dependent children.
Pros:
These plans are very comprehensive, including a broad range of services. Moreover, they are a great value even at full price, and an amazing value if you manage to snag a discount.
Cons:
It is hard to think of any drawbacks with these plans, although Coach-Net (see below) provides some additional benefits that Good Sam does not.
Coach-Net

Another top provider of RV roadside assistance policies is Coach-Net. Let's check out what they have to offer.
This company divides its plans into separate offerings for those with motorized RVs and those with fifth wheels.
Coach-Net's Premier Towable Plan: $179
Benefits of this plan include:
Coverage for the member, spouse, and children up to age 24
Coverage not just for the fifth wheel, but for all other owned, borrowed or leased vehicles
RV Technical Assistance Hotline
Travel Assistance Services if you are more than 150 miles from home and hospitalized
Unlimited towing
Unlimited tire assistance
Emergency fuel and fluids delivery service
Unlimited battery boosts
Unlimited lockouts
Unlimited mobile mechanic
Unlimited appointment assistance
Winching if your vehicle is stuck
Up to $2,000 in reimbursements for emergency trip interruption
Assorted discounts for tires, RV products and accessories and camping.
A range of other discounts and services to make it easier to plan and take a trip
Coach-Net's Premier Motorized Plan: $249
Benefits of this plan include the same basic benefits listed above for the fifth wheel plan.
Pros:
There are a lot of exciting features and benefits with these plans, including quite a few bells and whistles for those who could use some help with trip planning.
Cons:
These plans are more expensive than those offered by Good Sam, and may not be in every driver's price range.
AAA

Another of the biggest names in roadside assistance plans is AAA.
AAA has three different roadside assistance plans. All of them cover all types of vehicles, so they are applicable if you are in the market for coverage for your RV or fifth wheel.
Classic: $52
AAA Plus: $85
AAA Premier: $113
Classic benefits include:
7 miles of towing in the US and Canada with up to 4 service calls per year
Free emergency fuel delivery service (but you have to pay for the fuel)
Lockout service, including $60 toward parts and labor
AAA Mobile Battery Service & Jump Start
Flat tire service
Note that even if you pick one of the higher tier plans, you are limited to 100-200 miles with the towing benefit. At the higher tiers, the fuel is free if you need emergency fuel delivery.
Pros:
If you are on a tight budget, AAA has some decent plans at low prices.
Cons:
The towing limit could be problematic depending on how remote an area you are in when you go down.
Plus, these plans lack a lot of the benefits and features of those offered by Coach-Net and Good Sam.

Our Top Recommendation: Roadside Masters

While we recommend Good Sam for those on a tight budget, if you can swing a slightly higher cost, Roadside Masters offers far more value. Both are rich with features and benefits and give you a much better bang for your buck.
Between the two, it is a close match. Good Sam offers many extras are appealing, but by a narrow margin, Roadside Masters still emerges as the overall winner for coverage.
Why? Simply put, when you consider the pricing for both companies, Roadside Masters offers the better value.
Let's review the pricing again:
Good Sam Pricing
Standard: $129.95 (currently on sale for $64.95)
Platinum: $159.95 ($79.95 as of the time of this writing)
Platinum Complete: $239.95 ($119.95 as of the time of this writing)
Roadside Masters Pricing
$300 Discount On Annual Plan: $699
Monthly Payment Plan: $249 down / $67 for 11 remaining months
Even without a discount, Good Sam's Standard and Platinum Plans both run less than the Towable Plan from Coach-Net. The Platinum Complete Plan from Good Sam also costs less than the Motorized Coach-Net Plan.
Indeed, if you own a single motorhome, and every need a major repair, you can save a lot of money going for the Annual Plan from Roadside Masters instead of the Good Sam or Coach-Net Premier Motorized Plans.
But even with a fifth wheel, you'll still save money over the Coach-Net Premier Towable Plan by going with the Standard or Platinum Good Sam Plan.
As far as comparing the two plans, sometimes the lower overall cost is worthwhile if you are not on the road frequently with your RV. If you are a road warrior, we recommend the higher plan from Roadside Masters as the coverage is worth it for the additional coverage. Each plan includes features that the other does not, so you will need to decide based on your needs which you prefer.
Get the Roadside Assistance Plan You Need to Protect Your RV Now
We've just compared features and costs for some of the best RV roadside assistance plans on the market.
While we went over a few great options, in our opinion, Good Sam is the provider that offers the most comprehensive plans at the most reasonable prices.