RV Insurance 101 Guide & Free Quote
If you have purchased a recreational vehicle, you most certainly need to insure it. That should not come as a surprise, given that you need to insure all of your vehicles. This is even more important when considering the total value of your recreational vehicle.
But shopping for RV insurance is a little bit different from shopping for other automotive insurance policies.
In this guide, we are going to explain what makes RV insurance different. You will learn what it covers, how much it costs, and where you can shop for policies. Let's begin.
What is RV Insurance?
RV insurance is coverage for your recreational vehicle. You can purchase RV insurance for a class A motorhome, class B motorhome, class C motorhome, or a cargo or horse trailer.
You might think that RV insurance is just like the type of insurance you would buy to cover a car, truck or van, but it isn't.
The reason why is that the way you use an RV is different. You are either vacationing in it part-time or living in it full-time.
That is why motorhome insurance policies cover more than regular automobile insurance policies.
In fact, in some respects, RV insurance policies resemble homeowner's policies. That is particularly true if you are looking for a full-time RV insurance policy.
If your motor is attached to your home, yes, you definitely need RV insurance. At a minimum, your policy will need to cover property damage and bodily injury (the exact requirements depend on your state).
If you have a fifth wheel/travel trailer, however, you do not legally have to insure it (obviously you do need to insure the truck you are using to tow it). That said, you probably will want to insure it to have some protection.
Also, if you are still making payments on the travel trailer, you might have to get RV insurance to satisfy your lender's requirements.
What Does RV Insurance Cover?
Exact coverages vary from policy to policy, but here is what RV insurance policies typically cover:
Physical damage: There are two types of physical damage coverages for RVs: comprehensive and collision.
Comprehensive coverage: This is the type of coverage that kicks in if your RV is damaged by rocks, debris, weather, animals, theft or vandalism.
Collision coverage: If you get into an accident, collision coverage can help cover the damages.
Bodily injury and property damage liability: If you get into an accident that results in injuries, this coverage can help pay the costs.
Uninsured property damage and bodily injury: Normally, if someone else is at fault in an accident, their insurance will pay out. But if it doesn't, you can find yourself saddled with the costs for injuries and damages. By adding this type of coverage to your RV insurance policy, you have something to fall back on in these scenarios.
Roof: Some policies may include coverage for your roof, and/or allow you to tack on coverage for your roof (if this is available to you, you should strongly consider it).
Pests: There are some insurance policies that may pay out if a pest damages your motorhome (for example, a mouse or rat). Depending on where you live, this can be a very useful coverage.
When you are shopping for RV insurance, be sure to check if roadside assistance is included.
Pro Tip: Sometimes, RV parks are defined as a "roadside" by insurance companies. If that is the case, you may be able to receive roadside assistance in an RV park, not just on the literal roadside. This can be a huge help in certain situations (i.e. if your engine does not start after you have been parked for a long time and you need to move quickly). So, it is worth asking about when you are comparing policies.
Note that there are some things that are not typically covered by RV insurance policies. Unless a policy specifically states that damage related to normal wear and tear is covered, you should assume that it isn't.
One big question you might have is, "What about water damage?" Some carriers do cover water damage to an RV, but only in specific situations.
For example, water damage might be covered if it is the result of an accident, an object falling on the roof, a natural disaster, etc.
But if the insurance company determines that you could have prevented the leak through better maintenance, chances are good they are going to refuse to pay out.
How Much is RV Insurance?
The annual cost to insure an RV can range considerably. We have seen premiums for under $200 a year or as high as $3,000 a year or more.
Seeing such a wide range for RV insurance prices may surprise you. What factors affect the cost of RV insurance?
Type of vehicle: One of the major factors that influences the cost to insure an RV is the type of motorhome you have. Class B RVs in particular are often very cost-effective to insure. Progressive offers policies as low as $125 a year on class B motorhomes.
Age and value of vehicle: Like other types of vehicles, RVs drop in value as they get older. That means that if you have an older RV, you are in luck, because it will probably be less expensive to insure than a newer RV.
Coverage types: The types of coverage you purchase for your RV will impact the total cost. If you tack on a lot of optional coverages, your costs will be higher (but it truly can be worth it in some cases, especially for full-time RV use).
Coverage amounts: The higher the amounts of your coverages, the more expensive your policy will be. You can lower the amounts if you want to keep your premiums down. Just don't forget that this increases your risk if you do have expensive costs to cover should something go wrong.
Deductible: Your deductible is the amount of money you are expected to pay out of pocket before your RV insurance policy pays out. The higher your deductible, the lower your premiums will be. If you are willing to accept the risk of having to pay a higher deductible in the event of damages, it is a good way to save on your ongoing insurance costs.
Claims history: If you have a long history of making insurance claims for your RV, carriers will assess you to be a risky customer. That means that if they are willing to insure you, they are going to do it at a higher cost. If, on the other hand, you have a relatively claim-free record, the prices you are quoted are likely to be lower.
How much you drive: If you drive your RV around from park to park several times a year (or more), you are exposing it to a lot more risks and uncertainties than if you just keep it parked in one place for years on end. You also are increasing its overall wear and tear. So, it might cost more to insure your RV if you drive it more frequently.
Your driving record: If you have a safe driving record, you probably will qualify for better rates than you would if you have a lot of violations on your record.
Discounts: Along with safe driving discounts, other discounts might also be available for your RV insurance depending on the carrier you choose.
Carrier: Different RV insurance carriers may have different rates, even if they are offering you similar coverage options. For this reason, requesting multiple quotes is a good idea before you settle on a carrier.
Who Insures Motorhomes?
Now that you know what RV insurance costs and what it covers, let's take a look at some top RV insurance companies.
1. Progressive

As one of the top insurance carriers in the US, Progressive has a name that should be familiar to most readers. Progressive offers:
Class A RV insurance
Class B RV insurance
Class C RV insurance
Cargo and horse trailer insurance
At Progressive, you can customize your policy to your needs. Progressive is well known for its generous discounts. If you already have another policy with Progressive, you will save by bundling it with your RV insurance. You also can get an extra discount if you happen to be the RV's original owner. Progressive offers a safe driver discount as well.
I happen to have an RV insured by Progressive, and have been with the company for many years now. I pay around $50 a month (it is an old RV), so it has been very affordable.
I have not had to file any claims, so I cannot provide personal feedback on that aspect of dealing with the company. But I have used Progressive's roadside assistance, and it was a lifesaver when I needed it.
Best For: Progressive is a great choice for RV insurance if you want to save through a range of discount programs and are looking for top-shelf roadside assistance.
2. The Hartford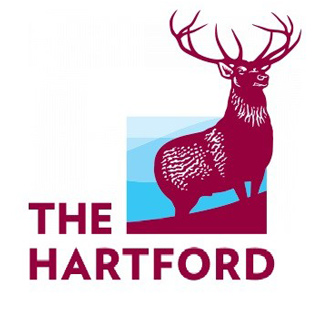 Another major insurance company that offers quality RV insurance policies is The Hartford.
Specifically, The Hartford provides the AARP® Auto Insurance and Homeowners Insurance Program.
To be eligible for this program, you need to be over the age of 50 and a member of AARP.
Some of the advantages of the AARP® Auto Insurance and Homeowners Insurance Program include:
A hassle-free claims process
Authorized repair shops
Replacement costs in case you total your motorhome
The Hartford also offers special discounts for AARP members along with discounts when you bundle multiple policies.
Best For: Consider choosing The Hartford for your RV insurance if you are a member of AARP and are looking for exclusive savings.
3. Good Sam

One more insurance carrier to consider if you are shopping for RV insurance is Good Sam.
Good Sam's full coverage policies for RVs can be customized to your needs. Some options include:
Total loss replacement
Storage option
Personal effects option
Full-timer coverage
Emergency expense coverage
Vacation liability coverage
Permanent attachment option
The company works hard to keep costs down, and claims that its customers save $530 a year on average when insuring their recreational vehicles.
Best For: We recommend Good Sam if you want to work with a carrier that provides excellent customization options at a good price.
Get Your RV Insurance Quote Now
Whether you are driving a class A, B or C motorhome or you have a fifth wheel or travel trailer, getting full RV insurance can provide you with the protection you need to live or travel on the road.
Ready to insure your RV?