What Are The Best RV Toilets?
Need a new toilet for your RV? If this is your first time shopping for an RV toilet, you may feel a bit lost as to what to look for in terms of types and features. In this guide, we will tell you some of the basics you need to know about RV toilets, and then we will introduce you to some of the top RV toilets that are on the market.
RV Toilets 101
What do you need to know about RV toilets before you shop? Toilets for motorhomes come in a few varieties:
Gravity flush toilets: As the name implies, these toilets flush with a system using gravity and pressurized water. The majority of RV toilets fall into this category.
Macerator toilets: These toilets grind up their contents for disposal. They may be powered by either water or electricity. Consider this type of system if you need to have your holding tank somewhere other than right under your toilet tank (as is required for a gravity toilet).
Cassette toilets: There is a permanently installed toilet with a portable, removable holding tank.
Composing toilets: No plumbing? A composting toilet doesn't require a water supply or a sewage hose. The waste is composted and you dump it yourself.
Portable camping toilets: This is a system kind of like a composting toilet, but the waste isn't composted or separated into liquids and solids.
You will need to choose the type of toilet that will be the best fit for your RV configuration, the utilities you will have available, and the lifestyle and maintenance you prefer.
Whatever type of RV toilet you choose, look for the following features:
The right dimensions for your RV
A holding capacity that works for you
Lightweight construction (if you want a portable unit)
Portability features like handles (if applicable)
Quality materials and seals
Secure latching (for portable units)
Odor control
Ergonomics
Stylish design
The price that is right for your budget
As one quick aside, only use toilet paper that is specifically made for RVs. Otherwise, you are bound to get some nasty clogs. Indeed, you might also consider throwing toilet paper in a waste bin and disposing of it. It may sound gross, but it will protect your plumbing.
Top Rated RV Toilets to Consider
Now that you are familiar with the different types of RV toilets on the market and you know some features to pay attention to while you are comparing products, let's check out some quality RV toilets.
1. SereneLife Outdoor Portable Toilet with Carry Bag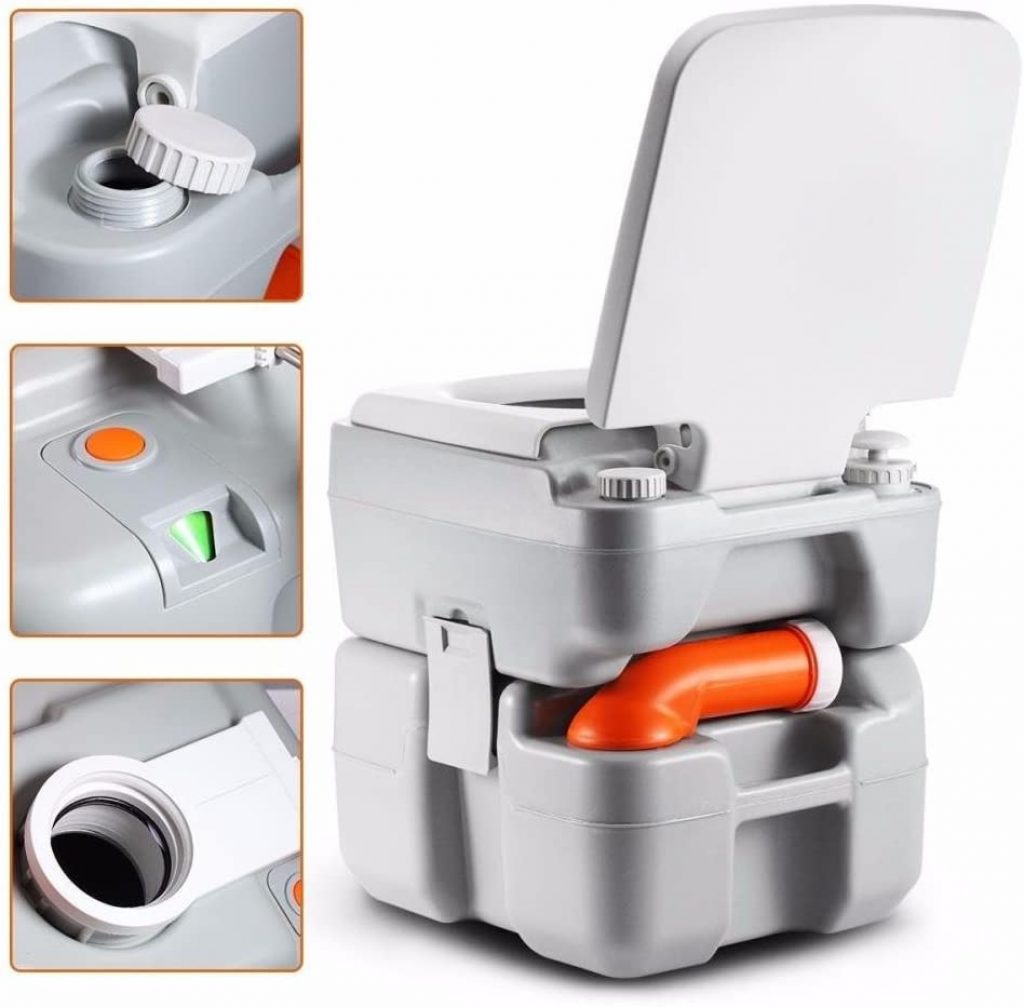 Key Features:
Dimensions: 20.90″x20.50″x18.60″
Holding tank capacity: 5.3 gallons
Fresh water tank capacity: 3.2 gallons
Piston pump
Rotating splash pour spout
High-density Polyethylene
The SereneLife Outdoor Portable Toilet is a lightweight, durable toilet that is ideal for RVs, boats, and more. Special features include an extra-large tank, odor-resistant materials, and a rotating pour spout that prevents splashes. It resists rust and corrosion, and is built to last.
This product also comes with a convenient carrying case. That way you can haul it around with relative ease.
Best For:
You might like this toilet if you want a model that you can keep in your RV sometimes and bring with you to camping sites other times. This would be applicable if rather than camping in your RV, for example, you park your RV full-time in an RV park, and then head out in a smaller vehicle to set up a tent somewhere.
2. Camco 41541 Portable Travel Toilet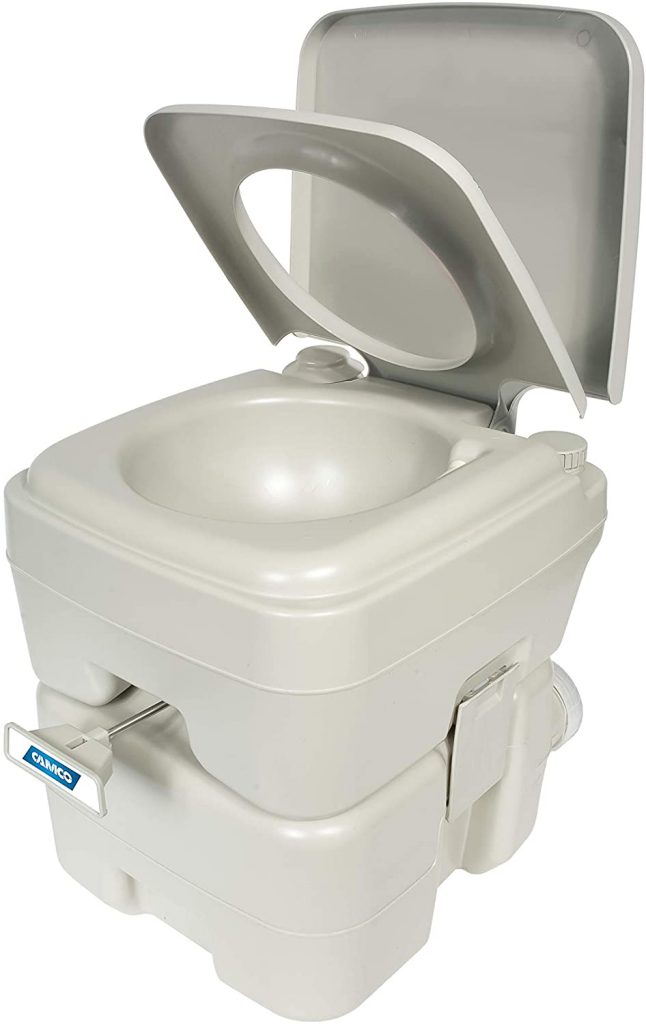 Key Features:
15.5 inch H x 14 inch W x 16 inch
Waste tank: 5.3 gallons (there is also a 2.6 gallon version)
Flush tank: 2.5 gallons
10.8 pounds
Sealing side valve for odor and leak protection
Bellow-type flush
Polyethylene
Here is another option if you are looking for a portable toilet. One of the best features is the sliding gate valve. When it is closed, it seals up tight, preventing leaks and odors from coming through. Another nice feature is the set of side latches. These hold the flush tank and waste tank together while you are moving the toilet. It comes with built-in handles as well.
Best For:
We recommend this product if you are looking for a portable model that will prevent odors from wafting into your RV.
3. Thetford 92820 Porta Potti 365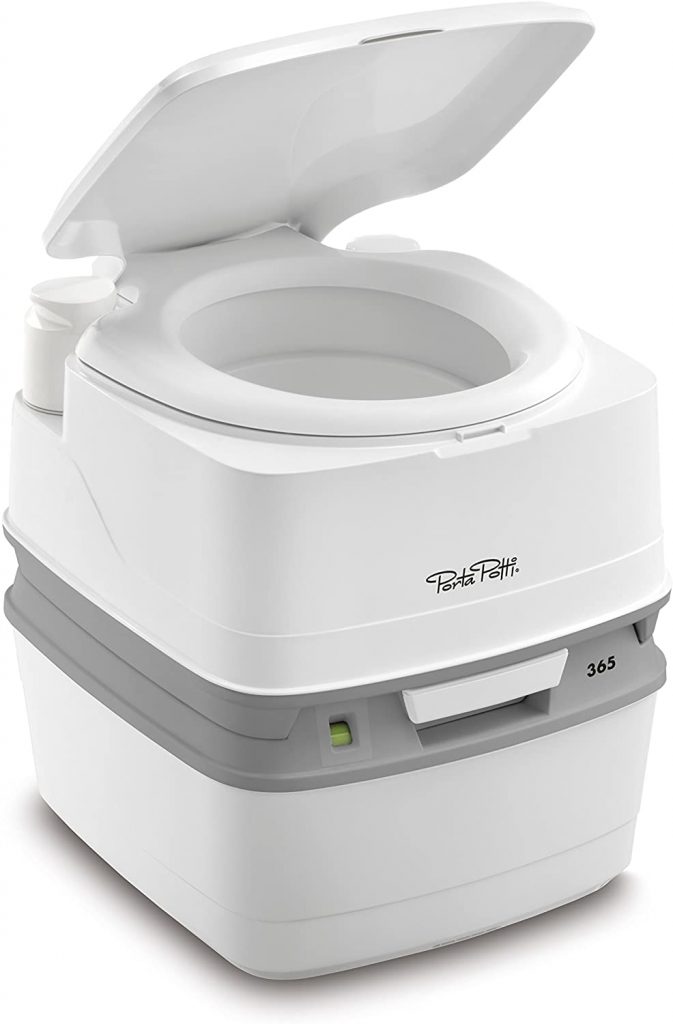 Key Features:
16.3″ Height x 15″ Width x 16.8″ Depth
Standard lid latch
Ergonomic handle
Rotating pour-out spout
5.5 gallon waste water capacity
4.0 gallon fresh water capacity
Thetford portable RV toilets are popular products, and for good reasons. They are made of durable, high-quality materials, and include great features for ease-of-use and convenience.
The Thetford 92820 Porta Potti 365 has a useful separating design, which allows you to reach the holding tanks. Since there is a tank level indicator for freshwater and wastewater alike, you won't have to access the tanks until it is time. Each fill gives you around 56 flushes. Other nice features include a pivoting pour-out spout and an improved handle for carrying the water tank.
Best For:
Along with the excellent features listed above, this toilet has an aesthetically appealing design. So, if the appearance of your toilet is important to you, you might want to consider this model. It also is a good choice for ease-of-use.
4. Dometic 320 series RV Toilet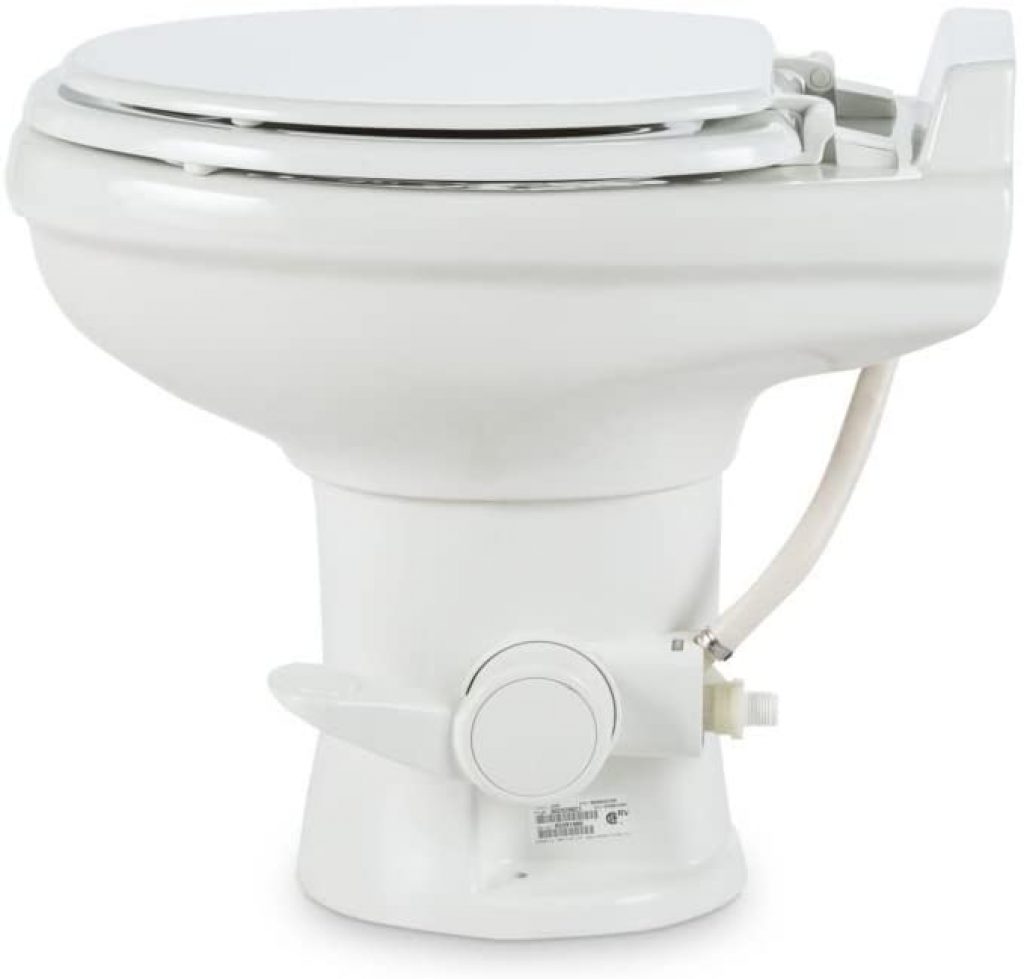 Key Features:
22" L x 14.75" W x 15" H
36.99 lbs
100% vitreous ceramic bowl
Wood seat
Spill-proof rim
Gravity flush
One pint per flush
Ergonomic pedal design
Elongated shape
Next, we have the Dometic 320 Low Profile RV Toilet.
This gravity flush model brings the comforts and conveniences of a traditional residential flush toilet to your RV. It includes a number of exciting features. For one, the wood seat stays comfortable even on cold nights—and keeping the interior of an RV warm at night can be a challenge if you want to stay energy-efficient, so this is a feature you will appreciate. Speaking of efficiency, only one pint of water is needed for each flush. So this is a good system to conserve water.
One more thing you will love about this toilet is its overall comfort. The elongated shape mimics that of a traditional residential model, and is superior to the toilets that come with many motorhomes. Additionally, the location and angle of the foot pedal for flushing is much more ergonomic than the pedals on a lot of other RV toilets.
Best For:
Choose this toilet if you want to replicate the experience of a traditional residential toilet with all of its comforts in your RV.
5. Porta Potti 92306 White Thetford Corp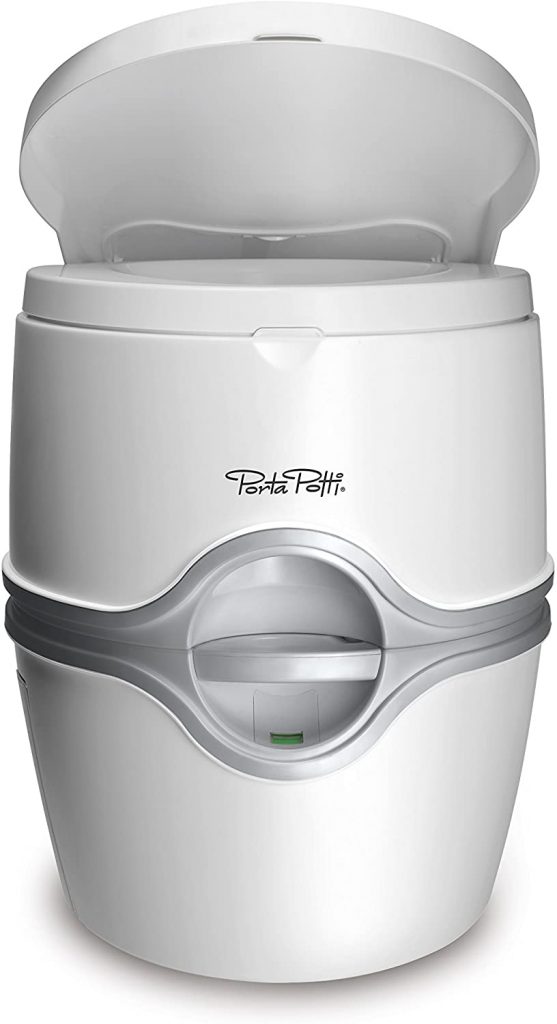 Key Features:
18.39 x 15.75 x 17.83 inches
13.45 Pounds
Fresh water tank: 4 gallons
Waste water tank: 5.5 gallons
50+ flushes
Carrying handle
Toilet paper holder
Tank level indicator
Sealed valve for odor and leak protection
Optional hold-down kit
Mess-free pour spout
The Porta Potti 92306 White Thetford Corp is a model that includes a lot of great conveniences. With a convenient carrying handle, an indicator for the tank levels, a built-in holder for your toilet paper, and the option to enhance stability while driving with a hold-down kit, it is a great all-around option.
Best For:
With its stylish appearance, this is a good model to choose if your focus is on aesthetics. It also is a good choice from an ease-of-use and odor-control standpoint.
Now you know about types of RV toilets and key features, and you have had a chance to check out some high-quality RV toilets on the market now. If you are ready to get the convenient, low-maintenance, long-lasting toilet you need for your motorhome, click on any of the links in this guide.